Perrie Taylor Erickson: I am the manager of a small family–owned company where I specialize in food services, transportation, accounting, human resource training, sanitation and dispute mediation (o.k. – I'm a housewife). Scott and I and our three children (Jeanette (11), Owen (10) and Carl (10)) are still living in Fort Collins, Colorado and loving our western lifestyle (mostly skiing, cycling and hiking). I also am a leader in Bible Study Fellowship and sing on our church worship team. Oh, and we have a new puppy, a Cairn terrier named Pepper. The attached picture is from our trip to Washington D.C. this summer. (Like many families, there are no pictures of one spouse – in this case, Scott, since he is the one who takes all the pictures!) I went to Alison Himel's wedding to Marty Shoom this past spring in Toronto, where I saw Jacques Antebi, Emil Vandenbol, Eileen Potts and Sujit Sinha. Alison was a beautiful, happy bride and put on a fabulous celebration of marriage and family. That's all!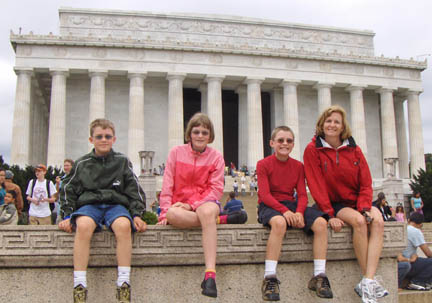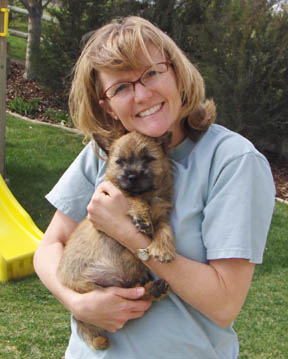 Craig Bamsey: I have recently left the job of head of consumer and business strategy at Trend Guru/Marketing Consultancy Faith Popcorn's BrainReserve and joined (as President and Co-CEO) 5 other former colleagues to start our own consulting shop in a related but distinct space. We describe ourselves as follows: "Infinia Foresight (if) is a global strategic consultancy that applies tomorrow's cultural insights to inform and inspire business decisions today." A more complete description of our POV, methodology, offerings, recent work and bios is on our website, www.infiniaforesight.com. We are part of the larger Infinia Group, which focuses on branding, identity, research, design and production. My family and I still live in idyllic mid-century modern environs in Westchester County north of New York. Our son Connor is now 4.5 years old and miraculously delightful (thank you fate!).
Theresa Gende Clouser: Still at Amgen in Thousand Oaks, California, now as Executive Director, Global Marketing — getting ready to (hopefully) launch a new oncology drug, Vectibix™ and move Amgen as a company into more areas of the world – true to Lauder form. My 2 -1/2 year old boy, Evan, is the joy of my life; he likes all things sports and can't wait to be on a baseball team. Husband Eric manages our real estate portfolio and has a small business; we hope the real estate market doesn't deflate any time soon. We'd love to have anyone come visit us if they're in the area, as it's a short drive to LA and beaches. Anyone interested in jobs at Amgen, I'd love to help out. Our home address is: 136 Laurel Ridge Drive, Simi Valley, CA and phone is (805) 526-3919. Email istclouser@amgen.com.
Jordan Foster: I just joined Fred Alger Management, a buy-side investment manager, as Senior Vice President & Manager, Consultant Relations (located in New York City). I am on the institutional side, marketing our investment products to pension plans, foundations and endowments. I'd be interested in catching up with any WG'91ers–jfoster@alger.com.
Lutz Braum: I have moved from Washington Mutuals Credit Card business to Wells Fargo, where I am now Chief Marketing Officer for the Personal Loan business.
Mike Faherty: I'm now living in northern New Jersey. My wife Jennifer and I have three children — Isabel, Matthew, and Sophia — ages 7, 5, 3. I've been working at Unilever for the last 2 and a half years, having left Kraft Foods in early 2004. My current role is VP Brand Development for our Spreads and Dressings businesses. The brands include Country Crock, I Can't Believe Its Not Butter, Hellmann's Mayonnaise, Wishbone Salad Dressing, and Skippy Peanut Butter. I get back to Wharton at least once a year for recruiting — we are building a cadre of Whartonites at Unilever. Lot's of fun!
Julian Critchlow: Phoebe Kate is growing fast…and is now 20 months old. As a 4th child she is thoroughly spoilt by Daniel (12), Megan (10) & Robert (8). I am in my 20th year with Bain – which probably means I need committing! On July 20th, I did a second English Channel Swim as part of a Relay for 2 children's charities – which means I DEFINITELY need committing! However we did raise around £50K for the charities! For pictures and the full story go to my site www.channel-swims.info.
Grant Wilson: My wife, Lea, and I welcomed our third child, Christina, into the world in March 2005, a sister for Sam (10) and Jessica (8). I continue to run TravelEdge a corporate travel management company I established 6 years ago with a partner. We are now the largest independent travel company in Australia, with some great clients (both local and global) – so having fun. Rob Fitzpatrick and I start every morning with a swim at our local beach often followed by breakfast at a local cafe to solve a few of the world's problems. In June, we spent three fantastic weeks with Dan Jansen and his family in California also catching up with Mark Stone in Vegas at Lynn Jansen's 40th.
Chris Fitzgerald: I'm Vice President & General Manager for Pitney Bowes' Latin America & Caribbean Operations, based at PB's world headquarters in Stamford, Connecticut. Living in Monroe, CT. Joanne (many Whartonites know her since we were married when I went there) is teaching in the Monroe public schools. Katie (born in Philly in September '90!) is now a beautiful 16-year old, complete with learner's permit! Emily (born in Syracuse in '92), Megan (Portugal '95), and Jack (Argentina '97) complete our mini-UN team. Things are good and now that I'm in greater NYC I'm trying to hook up again with other Whartonites. I also travel frequently to the region I cover, so would welcome a chance to meet up there as well – – drop me a line atchristopher.fitzgerald.wg91@wharton.upenn.edu.
Andrew Nelson: I joined TIAA-CREF last spring as a trader for European equities. Working European hours in NY took some getting used to, but I always beat the traffic and I get to see my children all afternoon every day. I'm happily outnumbered as the only male in a house full women: wife Helen, daughters Alexandria (11,) Sydney (8,) and Julia (7.)
Alison Himel: I am living happily in Toronto, and busy doing some consulting work. I got married in March to Marty Shoom (sorry not a Wharton grad). The wedding was a lot of fun. Lots of Wharton Grads helped us celebrate, including Perrie Taylor Erickson, Eileen Potts Simpkin, Jack Buzali (WG90), Emile van den Bol, Eve Durra van den Bol (WG90, Sujit Sinha and Jacques Antebi. What a great time to connect with old and dear friends.