Our non-partisan group that proactively promotes democratic principles around the world.  More details here.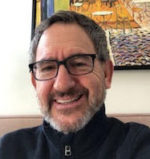 Since January 2020, we've got new updates from Stephen Meyer, Simon Guenzl, Cris Brookmyer, P.M. Steckmest, Massimo Armanini, Lee Herzog, Kacey Carpenter and Jordan Foster. Check 'em out!
We are all feeling fine and making it through this very sad time. Massachusetts is still on strict protocols. Home building and selling is an essential business so the residential real estate market continues to turn, although in some strange and fitful ways. Prices are high, volume is low. We have 3 out of 4 20-something's back at home. It's pretty fun to have a full house again. John has achieved his lifelong goal of getting back to service and is teaching 5th grade math with Teach for America in Dorchester - probably with some of your 20-somethings! Aside from the battle for the best WiFi spots, we are good! Thinking of you all and hoping you are safe.
Still living in Scarsdale with (first) wife and three kids 15, 11 and 9. A bit of cabin fever but, as they kids say, were learning more about one another. Some weekends in Water Mill and still working at Marshall Wace. Hope all are faring well during these odd times.
We are all safe and sheltering in place though it has been a roller coaster ride this year. 2020 started with some much opportunity for change and progress and I made my return trip to Iowa on My Journey with Bernie. Unfortunately, I got sick in Iowa and returned home to recover. Suddenly, everything changed with COVID-19 with remote work, lost jobs, and so many people getting sick and sadly losing their lives. So grateful and thankful for my family, friends, and colleagues as we navigate this crisis and moment. So proud that my daughter Cass was accepted into her top choice for Emergency Medicine Residency and will be serving and saving lives on the front lines. Please continue to stay safe and if possible donate or volunteer to those most in need and serving people. I am looking forward to when it's time to get back to normal and enjoy more of the outdoors in nature.