Christine (Swenson) Lawrence: We are all feeling fine and making it through this very sad time. Massachusetts is still on strict protocols. Home building and selling is an essential business so the residential real estate market continues to turn, although in some strange and fitful ways. Prices are high, volume is low. We have 3 out of 4 20-something's back at home. It's pretty fun to have a full house again. John has achieved his lifelong goal of getting back to service and is teaching 5th grade math with Teach for America in Dorchester – probably with some of your 20-somethings! Aside from the battle for the best WiFi spots, we are good! Thinking of you all and hoping you are safe.
Pat LaVecchia: Hi Friends! Hope everyone is doing well and are staying safe. On our end, 3 of Kris and my boys are out of college and onto their careers and my daughter is a senior in high school. All doing well. Quick update on me – I sold the majority of my broker dealer in 2019 and now am CEO of the post-sale company, Oasis Pro Markets LLC. We have been focused on the digital security/digital asset/crypto/stablecoin/cbdc space and seeking regulatory approval in the US (and other jurisdictions) for an ATS and other trading venues. We are at the forefront of exciting innovations in financial services and I am spending a ton of my time with regulators, consultants, institutional investors and issuers. If you are in digital/fintech area, please reach out. In addition to the above, running a small investment fund with a partner in fintech/digital assets and continue to invest and sit on boards of private and public companies (primarily tech and biotech/medical devices). Enjoy seeing our fellow classmates regularly until Covid-19 hit and hope we can do it again sooner rather than later. 
Audrey (Epstein) Reny: It has been a long time since I have checked in! I am a real estate developer in Boston, working with 2 generations of family. We are currently building a 1.6MM sf life science and technology urban campus in Boston's South End, so check it out if you are looking for lab/office space in Boston. www.exchangesouthend.com. During the pandemic, both daughters and a fiancee and a boyfriend moved in with us which was the silver lining to this crazy time. We loved having a full nest. My oldest daughter had to cancel her Memorial Day weekend wedding, but we had just family in my backyard which was intimate and special. She also, graduated Penn medical school, matched for her residency at Harvard's Otolaryngology program and moved into an apartment one block from us on Beacon Hill. So we have had a lot going on while sheltering in place! Hope everyone is safe and healthy.
Lorrie King: I have big wonderful beauty start up news to share. I have co-founded a DTC skincare and wellness business, Caire Beauty for women 40+. Amazingly amongst this unsettling time of the Covid-19 and racism pandemics, my company was recently selected to be a part of the Entrepreneurs Roundtable Accelerator's 19th class. https://www.eranyc.com/companies/. We started virtually on July 13th and will be a part of this prestigious group through the end of this year. It's a wonderful way to have raised initial funding. I am proud to say that those long ago entrepreneurial classes might finally be paying off in a major way, but boy oh boy is fundraising a new language for me. Our preliminary website is www.cairebeauty.com. We are about to enter digital pre-testing so sign up for our emails if you are over 40 and would love smoother, more hydrated, glowing skin (it of course can work for men too especially those of you are who are sneaking off for Botox injections!). My cofounder is a Wharton undergrad, Celeste Lee (a friend of Ed Allinson's, so he introduced us). See you online everyone.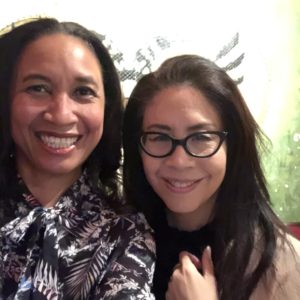 Kacey Carpenter: Hope you and your family are safe at this moment during these challenging times. We moved our home from California to Oregon this summer and are enjoying the outdoors walking among the forest and kayaking in the lake. We are thankful that our families are safe with Cass starting her Emergency Medicine Residency at Bay State, Emma working on her master's degree, Rob working remotely in California support the law firm in NY, and Kevin working safely from home in Texas.  I am passionate about my work at the Sierra Club to help save the planet, support equity, inclusion, and justice in our work, and help create a future to believe in for all.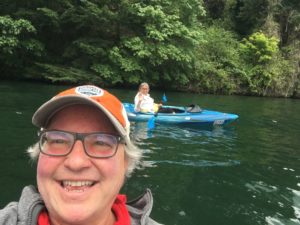 Colly Burgwin: All the family is fine. There was a brief scare recently when we were informed that we had been at a small event with someone who later tested positive for Covid-19. We have all been tested, and found to be negative. I was at our beach house on the Delaware shore in mid-March, when we decided to have everyone at the Foreign Policy Research Institute go home and begin to work remotely. Several days later, Pennsylvania shut down and Delaware shut down. My one week at the shore ended up being nearly 3 months, as I got back home to the Main Line in early June. Fortunately (unfortunately for Linda) I had the dog with me, which helped a little, but not a lot, because Delaware closed its beaches to all activity, including dog-walking, until the end of May. Family and friends coped with virtual Happy Hours via Zoom and a regular series of online trivia nights.
I would occasionally comment to my 3 kids that I wanted to get back home, to which their response was invariably: "Please don't! You will die. Either from Covid-19; or because we will kill you." I am, after all, somewhat more at risk given my age. My 50th reunion at St Paul's has been postponed to next June. An "anti-reunion" in Marin County with some Yale classmates scheduled for this Fall has been postponed for a year. The annual Yale Alumni Association convocation scheduled for this November in New Haven will now be online. Every presentation event/lecture/briefing at FPRI is now virtual (and well may largely remain so, as the response has been tremendous). Strange times these are. Stay safe.