Dan Jansen: After many years at BCG leading the entertainment practice, I took a year off and moved the family to our ski house in Telluride Colorado. It's been an amazing year with hiking, biking, 75 ski days, the kids joining the ski team and lots of family time. I have now re-entered the real world by founding my own new media company, Virtual Greats. We sell branded virtual goods in social networks and virtual worlds (ask your kids if that doesn't make sense). Our first product line is celebrity branded and will be selling on Gaia next month. It's a risky new media play, but so far a blast to get going and a great change of pace for me.
Janette Kessler Dudley: I'm still living in Williamstown, Massachusetts with my husband, Will, and two kids (Cole 9; Ella 7). I am now VP for Market Development for ConsumerPowerline, a leading demand response provider. We help large energy users — including retail, commercial, and industrial — gain greater control over their energy costs and find new sources of revenue. The company is headquartered in NYC, so I spend a lot of my time in the city. When not working, my family and I can be found on the local slopes (20 minutes away) or bike paths, or at a swim meet, baseball game, or other sporting event.
David GhiGhi: Last summer I got married to a beautiful woman named Gloria Fellin. We met a few years ago when I was working in Italy and miraculously stayed together through a move to NYC in 2004 and to Washington, DC in 2006. Also last year, I joined a start-up Islamic investment bank in Riyadh, Saudi Arabia, which is called Jadwa Investment Company (http://www.jadwa.com/english/index.php). I am managing director-investment banking & head of project finance. So, my work with mega-projects continues but my commute got a lot shorter. Life in Riyadh is really pretty interesting, once the newcomerstops moaning about there being no movie theaters, and in just a few hours we can be in so many cities that beforehand were simply too far to visit for a week.
Jeff Varick: Deedee and I had our first child! Sabrina Maria Varick was born in Michigan on May 29th at 12:07pm. She came into the world tipping the scales at 8 pounds, 11 ounces, 21 inches long. She's been a delight and a real life-changer for both of us. We've loved hearing from so many Wharton friends from around the world after her birth. Attached is a photo of her with proud papa.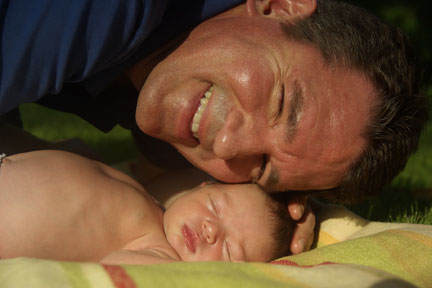 Thibaut de Chassey: I am happy to report the birth of my fifth child and fourth boy (oops) on June 16, 2008. God bless my wife Benedicte, she is a real saint. Happy family. Exhausted parents. Life's great in Paris.
Mark Solomon: Last year, I left the small software business and managing 60+ people to take on the business management of my wife's (Laura Nussbaum Solomon – Penn Law '92) small law firm. Too often I was away from home and we were tired of outsourcing our parenting responsibilities. Also, her practice, specializing in non-profits (www.laurasolomonesq.com), was growing beyond what she could manage on her own. Now I spend about two-thirds of my time on the law practice and take care of the three kids and household with the rest. It has been a huge change for us and mostly for the better. Life is now at a more reasonable pace. We still live in Wynnewood just a few minutes from campus.
Wayne Patten: After 9 years in management consulting, I started my own consulting firm, Innovation Strategies, in the fall of 2000. We have been focusing on growth, product, and channel strategy for industrial and manufacturing oriented companies. You can read about our work at www.innovationstrategies.com. I enjoy making a contribution to our clients' success, but the downside is I've developed a rear end that is shaped like an airplane seat.
I've gone skiing a few times in recent years with Cohort B Ski Team (Tom Heule, Pal Berg, Paul Hardy, Joe Army, and Rob Joyce, to name a few), but have let my membership lapse. Guys, I promise to renew it! My wife and I and our 3 kids are enjoying life in Northern Virginia, and 2 are now in college. Drop by if you are in the neighborhood.