Janette Dudley: It was wonderful to see everyone who attended Reunion! I enjoyed getting caught up on people's careers, families, and adventures. I am still in Williamstown, Massachusetts (in the Berkshires) with my husband, Will, and two kids (Cole, 7 and Ella, 5). My husband teaches philosophy at Williams College. The kids have entered that great stage of life where we can hike, ski, bike, and travel (unencumbered) together. I recently created a consulting firm, Taconic Crest Consulting (taconiccrest.com), with two partners. We do a wide range of consulting activities including strategy, operations, finance, development, and IT. I'm looking forward to expanding our client base and employees in the next few years. The business allows me to travel overseas occasionally, which is a nice escape from small town life. Generally, though, living in a small college town is rather idyllic. Please look us up if you're traveling in this area.
John Fadool: I am very pleased to pass on my new contact information at Darden Restaurants. In my role as Senior VP for Culinary and Beverage for Red Lobster I will be responsible for leading the Culinary and Beverage team in the strategic development and implementation of fresh, delicious seafood and refreshing beverages that delight our guests.
I am very excited to be joining Red Lobster and Darden Restaurants. Casual dining is a fast-paced, growth business and Darden is a company with lots of growth potential (Darden Restaurants has five casual dining concepts- Red Lobster, Olive Garden, Bahama Breeze, Smokey Bones Barbeque & Grill and Seasons 52). Additionally, Darden is a company that places a high premium on people development and brand building and in my new role I am looking forward to leveraging a combination of skills including leadership, strategic thinking, brand building and new product development. Margot and I love to have visitors so if you are due a Disney trip please look us up. Additionally, when you next dine in one of our restaurants, if you have any suggestions about how to improve our food or our service, I would love to hear from you!
SVP Culinary & Beverage
Red Lobster
6784 Lake Ellenor Drive
Orlando, FL 32809
(407) 245-5673 (work)
(407) 456-1440 (cell)
(407) 920-9201(fax)
E-mail: jfadool@redlobster.com, fadooljg@yahoo.com
Masaru Negishi: After the graduation, I spent 6 years in NY and then came back to Tokyo in 1997. In 2001, I joined GE real estate, a susidiary of GE. My home address: 7-5-1-1103, Tsukiji, Chuo, Tokyo, Japan. My current assignment is to run Nagoya branch opened last December. If you have a time to visit Japan, please let me know.
David Bialer: I am currently working for a Norwegian software company, Trolltech, where I head up partnering and strategic alliances. We are a pioneer in open source software and the leading software provider for Linux-based mobile devices. The company recently went public on the Oslo stock exchange. I travel frequently internationally – especially to Oslo and Beijing. I live in the beautiful city of San Francisco with my wife, Mary McNear, who was introduced to me by fellow grad George Montague during my 2nd year at Wharton. George is now married to Mary's housemate. We have 2 children, Harry (11) and Rose (8).
Thibault de Chassey: I am delighted to report the birth of my fourth child (and first girl … Yeeeesssssss !) Quitterie on January 2, 2006. This (obviously most beautiful) baby was born in great shape (4.5 kg), is doing very well, and gives to its parents and brothers a lot of happiness. See picture of the four monsters attached.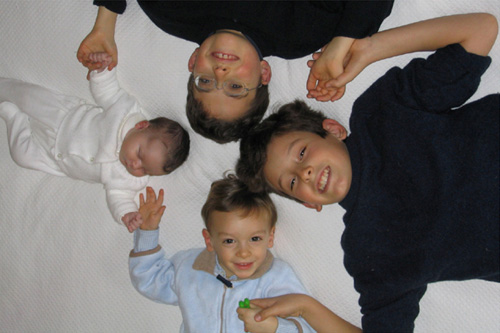 Bill Safran: I am still based in London (10th year) and still very much enjoying myself. I have taken up cycling and can be seen lycra-clad pedalling through southern England, the French Alps around Swedish lakes. For the past 6 years I have been working for and then running a 100 person computer software company focused on mortgage sourcing for intermediaries. After a pretty disastrous start in 1999, things turned around over the past 3 years and we now have over £6.5m in sales, are actually making money and have recently made the Sunday Times Fastest growing technology company list (17th). However, the really big news is that I got married this May to Christine Vanden Beukel. We had a pretty spectacular ceremony near Lyon which was attended by Wharton grads, John and Andra Ehrenkranz.
Colly Burgwin: I remain as CFO of a social service agency in inner city Philadelphia. Still living in Paoli, 10 minutes from Malone (who I rarely see). Linda, a real estate agent on the Main Line, is helping clients work through the Real Estate slowdown. Oldest son Doug is entering junior year at Stern Business School at NYU. Just went through anxiety of finding him an affordable apartment in NYC. Daughter Chelsea will enter Pitt as a freshman this fall. (My home town. Steelers!). Bribed her into attending a PublicUniversity by offering to give her a car. (It's cheaper in the long run than Syracuse U.) Was expecting that she would get our old Subaru, and I would get something newer. But it looks like her mother and she have other ideas. Dad loses (again). Youngest son JJ keeps us from having to suffer from "Empty Nest" syndrome for another 6 years. Reunion was delightful, especially getting to spend time with Chris Malone, Jane Page, Leslie Benoliel, Feico Elhorst (and wife), Sean Crotty, Gordon Henry, et al.
Vince Ostrosky: Married to Robin, my wife of 14 years this 10/31— yes it is a Halloween Wedding Anniversary! We have 3 wonderful children.. We relocated from CA over 5 years ago, complements at the time of my role with IBM, and reside in Ridgefield, CT. Left IBM over 18 months ago to take on running a small public software company, Selectica, which has primary operations in the Silicon Valley and India. Best to all the 91 Grads!
Seiji Sato: I work at Structured Finance Group of Bank of Tokyo-Mitsubishi UFJ New
York. Main assignment is to offer structured debt products for our customers in the Americas. We have been in NY since 1995 and our daughter Kei will be in the ninth grade this fall (time flies). Dana, my wife, also works at apparel manufacturer office in NY.
Anil Pereira: My 'entrepreneur-in-residence' gig at Ignition Partners has paid off with a $6.5M Series A financing round for his new company, SecondSpace. Details on the company are still under wraps but I promise that the web service they launch this fall will be of "great interest and utility to fellow Whartonites". I continue to serve as an advisor to a number of startups and also sit on the board of Trumba Corporation. I look forward to tapping the private equity funds of his classmates in "about a year's time".
Ray Yamamoto: I founded an M&A advisory firm called GCA Co., Ltd. together with three other partners in 2004 and GCA is expected to have IPO at Tokyo Stock Exchange in Autumn 2006. GCA also raised an approximately $600 million mezzanine investment fund to support buyout-financings, that is the first fund of that kind in Japanese market.
Nobuo Mori: I was fortunate enough to be able to join two dinners in the 15th anniversary of Wharton Alumni gatherings. I have not been to Philadelphia for a very long time, and was surprised how the city changed but how our class mate did not change. After coming back to Japan, I had another chance to spend a few days in Paris for our internal meetings for senior partners as well as client seminars. I wish I had studied French seriously. Since my 12 years old son is taking an infamous entrance examination to junior high school early next year, our family is not supposed to take long vacation this summer. Next summer, though, we are planning to fly to the East Coast in the US. Believe it or not, I am still doing a consulting job, both being excited and disappointed from win and loss of new assignments.
Linda Jenkinson: I am living in San Francisco and now have 2 kids, Tristram 5 and Belle 2. Still working in my two start-ups – LesConcierges and Porthos– LesConcierges which has just broken the $10million in revenue mark – just finished doing a MBO – and Porthos is growing well. Seen a few of my Wharton classmates recently – went to Hal Oates wedding in Texas and caught up with Alfonso and Fernando – then went to Senegal, Dakar, to visit Nastasha Quist who is heading up Oxfam North Africa – with Dawn Hines and Heather Potters – a great time was had by all..
Mark Wirthlin: Is it just me, or are the years getting shorter and shorter?!! Allison and I are now in Salt Lake Citywith our four children — Christine (17), Jared (14), Ryan (11) and Joshua (10). Working with Christine on college applications has force me to acknowledge that I not as young as I feel or as wish I was! We've really been enjoying SLC. It's the perfect "play" town. We live just 20 minutes from Snowbird and we've added a boat and a couple of horses to our toy box. After having survived another merger, I am currently a Sr. VP / Sr. Consultant with Harris Interactive's Brand and Strategy consulting group. Good company, great clients.
Chris Fitzgerald: I'm doing well and enjoying life in the Connecticut 'burbs. Working in Pitney Bowes in Stamford, CT, as Managing Director, Latin America & Caribbean. I travel quite a bit to the region, as you can imagine. Wife Joanne and 4 kids are doing great, happily. Some classmates may remember my oldest daughter Katie, born during mysecond year at Wharton and a sometimes classroom participant…. she's now going into her junior year in high school!
Nic Caron: My news is that I have accepted an offer from Banque Pictet in Geneva, Switzerland to work as a private banker starting in September. Going from entertainment in L.A. to real estate in Paris to banking will be an interesting ride. Better yet, Geneva is the size of West Covina, say 300,000 people. I have already received a warm welcome from Carolyn Lutz ('90) and James Nagelmackers ('89). They claim the mountains and the lake make up for any big city entertainment. But I will sure be pleased to see passing Whartonites with news from the outside world!
Steven Pinsky: Wonderful seeing many of you at the reunion. Since my last update, I started the M&A Services (middle market due diligence) Practice and was named a partner at J.H. Cohn, a top 20 accounting firm. Personally, I completed my second marathon (NY Marathon) in 2004 and am currently training to tackle the streets of NY again this fall to raise money for Juvenile Diabetes (a great cause, donations welcome). I can be reached at spinsky@jhcohn.com.
Phil Fine: After living the last 12 years in Kazakhstan, Russia, Ukraine, and Moldova, I returned to the U.S., working for a Princeton-based niche broker/dealer specializing in CIS equities. We make markets in large, less liquid blocks for emerging markets institutional investors. Still play tennis and keep my connection to South Florida, so I hope to see you some winter there or any time else up north!
Bret Sewell: My wife Chris and I are expecting our second baby in October. Will, our first, is 2 years old now, starting to talk, and is super active climbing on top of everything and learning to jump into the pool. After spending a year as an Entrepreneur in Residence at Benchmark Capital, a Sand Hill Road venture capital firm, I joined Venturi as CEO last November. Venturi provides wireless data systems to service providers like Verizon. This is my third startup company, and I'm enjoying building new companies in the technology space. I would look forward to hearing from classmates and getting together if they're in the Bay Area.