Mark Lippman: After 6 terrific years at IBM, I have accepted a position as the VP, Professional Services at Cybertrust here inReston, VA. Although I thoroughly enjoyed my time at IBM, and certainly the people, Cybertrust is an exciting opportunity that I have been weighing for several months. Most importantly, my IBM email address will no longer be valid after today so here is my new contact information: mark_lippman@yahoo.com My cell phone remains unchanged – (703)980-8715. I will let you know my office number in the next week. I begin on Monday April 20th.

Jane Page: My apologies for this impersonal format…but I wanted to pass on my new information! I have (finally!) settled at the very tip of Manhattan…any further south and I would be in the river! I am working for Molton Brown USA and my number there is 212.753.5277 ext 18.

George Hongchoy: Since 2006 is our class' 15th anniversary re-union year, I would like to start publicising the event shortly. I am particularly encouraged that there will also be more family activities so that we can bring our next generation Wharton students to campus. To provide leadership to the re-union class giving, I will pledge US$15,000 to kick-off our class campaign.
Jordan Foster: I am still at OFI Institutional Asset Management, the institutional division of OppenheimerFunds. Both my institutional group and our parent company are having record years (a "good" thing — it's always more palatable to update "Alumni Notes" when you're doing well). I still live on the Upper West Side in Manhattan, and would love to hear from classmates when they're in town (hjfoster@yahoo.com). I've seen Nancy (Deutch) Moloff recently, and Curt Cimei. I'm also in touch with Ned Brody (W'86 WG'90). Cheers (that's what they say in London, right?)!

Miguel Osio: Hi dear WG91's, Laura, Miguel Jr.(14) and Ale (10) have had some fun living in Manhasset-Long Island this past year after surviving NYC for 13 yrs. However, we miss the city very much and we may move back. Commute, the boys missing his friends in the city and Laura real estate business are forces pulling us back to NYC. This was my 6th year in Morgan Stanley Private Wealth Management, where I enjoy very much managing the assets of wealthy families and entrepreneurs and working with family offices. On the hobby side I just started playing some golf, but my main leisure activity is surfing in warm or cold waters…Whenever we get good waves. If any of you are surfing lets plan to get together on a good swell day!!!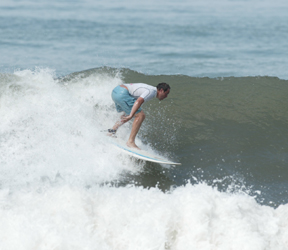 Chris McDonald: I have lived in Dubai since early 2001, the previous 10 years to that in HK (mostly) and Singapore. Most importantly have a fantastic 9 year old son who with the way he is growing will be bigger than me anytime now! Currently I am the CEO of Taj Television Ltd, a company I started up with a local partner. Among other things, we produce and broadcast the Indian subcontinent's number one sports channel (as determined by peoplemeters over the last few years) – Ten Sports. Our main competitor is ESPN Star Sports – my former employer! It's great fun anyway – and this part of the world (Dubai. India andPakistan)is seeing growth that must be seen to be believed. China is an amazing story but this part of the world is really coming in to its own now too. So that is it. Hope all is well.

Jeffrey Babin: After selling my software company in 2001, I've spent the last four years building a platform combining my interests in entrepreneurship, education, and investing. Antiphony, my consulting practice, focuses on helping technology companies build sustainable value. After teaching in Wharton Entrepreneurial Programs for 9 years, I've added appointments in Penn Engineering (Lecturer, Engineering Entrepreneurship) and Marketing (India Country Manager for Wharton Global Consulting Practicum), as well as contributed to the Executive Masters in Technology Management (EMTM) curriculum. Finally, on the investing front, I helped start the MidAtlantic Angel Group Fund, which will be making its first investment this month. Kathy (my wife), Drew (9), and Liza (7) are enjoying a summer full of activities.

George Clark: Tricia and I have moved to Greenville SC. We now have three children Price (14) Abigail (12) and Elizabeth (4). We have also birthed a new company www.finearttapestries.com and www.purecountry.com We are weaving fantastic art into tapestries in mill in the Carolinas. We are having fun and wish everyone well. Stop by if you are in the south. Home 864-286-6414, Office 828-859-9916

Julian Critchlow: Sarah and I added a fourth child – Phoebe – to our (growing) family…quite a pleasant surprise for Daniel 11, Megan 9 and Robert 6. Since Megan asked for a sister, we have told her it is all her fault and she has to help out every Saturday morning between 7 and 9am looking after her!! Her full name is Phoebe Kate but I thought Phoebe Kate Dory Critchlow might be nice…given her swimming ability!
Lawrence Gelburd: I am still married to Anita Gelburd, Ph. D., Assistant to the Deputy Provost who also teaches History at Penn. I am an independent consultant and a part-time lecturer at Wharton teaching Management 230 and 231, courses in Entrepreneurship. I also teach for Wharton's Small Business Development Center and Leadership in the Business World Program. I am Entrepreneur in Residence at Penn's Weiss Tech House and Executive in Residence at the Science Center.

Mark Stone: After taking a year off (by far the best of my life) and surviving our third bad winter in Boston, the family (Meg WG92, Alex (5) and Katie (3)) and I moved to Manhattan Beach, CA. I accepted a position as Managing Director, President of Operations for Gores Technology Group – a 20 year old mid-market private equity firm. We are all excited for sunny and warm 365 days a year. Happy to be within shouting distance of Dan Jansen (WG 91) and his clan – they have already done wonders to help get us acclimated.
Lisa Popick & Sanjay Sehgal: After 11 years of doing private equity in Asia based in Hong Kong and Singapore, Sanjay left Schroder Capital Partners (Asia) in July. Sanjay has launched his own private equity Fund investing in healthcare in Asia, and India in particular. Lisa is looking forward to coming back to the US after being away from her family for so many years. For our three kids (daughter Ryka who is 8.5 yrs, son Talen who is 6 and little Kira who is 3.5 years) who are all born in Asia, this is going to be quite an experience – we are keeping our fingers crossed! We have rented a house in Princeton, NJ and will be moving there this summer. Sanjay will be continue to shuttle back and forth between Singapore, Princeton and elsewhere. Lisa will sorely miss her museum work – as a docent at the Asian Civilization Museum in Singapore and knows more about Asian civilization than Sanjay does. Hopefully, she can keep her interest alive in Princeton as well!