Jon Last: Over the past seven plus years as Golf Digest Publications' Vice President of Corporate Marketing, Research and Brand Development, I've seen the good and the bad when it comes to insight driven marketing assessment and strategy. It has always been a desire to take the best of breed approaches and meld them into a different type of marketing consultancy. It's with a clear focus on that singular objective, that I've formed Sports & Leisure Research Group. I've always valued classmate support and friendship throughout the years, and look forward to building upon that from this exciting new vantage point.
Charles Klein: To all, for those of you who are not on our snail-mail list and yet still remain on our minds and in our hearts, here's our annual round-up. 2008 was a hell-of-a year. History was made and hysteria broke out. Thankfully, all for different reasons. GM got the bailout so we will remain here in Detroit for now at least. These are interesting times to be alive. I don´t know about all of you, but I really look forward to 2009. It's a fascinating time to be alive and I am glad to still be a part of it. Peace and best wishes to all.
Rick Deitch: Janese and I still live in Dallas. Several years ago we renovated an old house in Highland Park, and there are great schools here for the kids, so we are likely staying put until the last kid goes to college. Our four kids are 15, 11, 9 and 6. I am still doing private investing with a couple of partners (www.rsrfinance.com), but not really full time, allowing me to help coach some of the kids' teams and run the neighborhood Cub Scouts.
Lucinda Duncalfe Holt: I'm still living happily outside of Philadelphia with my husband Russell and daughters Emma 8 and Indea 5. I'm running a venture-backed paid search software company called Commerce360 that recently launched an industry-leading product, ClickEquations, to help advertisers optimize their advertising spend on Google and other search engines. I'm lucky enough to visit Wharton a couple of times a year, and would love to catch up with anyone else who visits Philadelphia.
Angela Brown: I have been running my own technology solutions company, Victory Global Solutions, Inc., since March of 2001.Victory Global Solutions is a successful technology integration and consulting services firm supporting DoD, federal and state government, and commercial clients. Victory helps organizations in their quest to modernize technology applications and enterprise networking infrastructure by providing high available, scalable, robust, and secure mission critical solutions including "green technology". I have been able to give back by providing internships for college students and scholarship fund. I can be reached by e-mail me at abrown@victorygs.com or victorygs@aol.com.
T.J. Gallagher: I left the 21st century network business of fiber optic communications where I had been working for five years to join the 19th century network business of railroading. I have been CFO of Genesee and Wyoming (NYSE: GWR) since May 2005. GWR, which is based in Greenwich, CT, is an acquisition-driven shortline and regional freight railroad holding company with 63 properties located in the U.S., Canada, Australia and the Netherlands. My family and I now reside in Darien, Connecticut.
Keith Zachow: I am still in Livermore, CA running Omega Valuations after stints in M&A and private equity. Have bought out some competitors and now have analyst help in India. Am also continuing to build custom houses, the most recent in Loomis, CA, and pursue angel investing via the Keiretsu Forum. My ex, Christine (worked in student affairs) shares our two girls (Ariel 16 and Emily 13) and works at the Livermore Lab. If any of you are in the Bay area and would like to share some wine, please call.
Cyrille Arnould: Here is my triennial if not quinquennial update of "But where is Cyrille??" (not yet on YouTube)… In fact, I am still in the same place: the Grand Duchy of Luxembourg earning a living at the European Investment Bank. I spent the last 5 years in charge of microfinance and equity for Africa the Caribbean and Pacific regions. I am now moving to a new field as head of a fund of funds, managed out of EIB, the Global Energy Efficiency and Renewable Energy Fund (GEEREF), where I will try to emulate Don Quixote de la Mancha and go after all sorts of windmills and other carbon friendly energy production in least developed countries. Perhaps this is an extension of my biking to work for the last 10 years, which should have earned me around 12 tons of carbon credits… My dear wife Lisa has been kind enough to bear with me all of this time and my children (Madeleine, Jacob and Beryl) have not yet decided that it was time to do heavy body-piercing and substance abuse. Or am I just blind?
As most fellow Europeans, November the 4th involved a sleepless night and "breakfast au champagne". For the ones like myself, with a soft spot for the USA, it was a relief (no longer had to hide it…). But what most Europeans deem good for the USA, is not deemed necessary here, hence in the foreseeable future I am afraid diversity will remain confined to football teams rather than executive offices. Let me finish this in my native language: Bises à tous,
Bret Sewell: Christine and I welcomed our new baby daughter Charlotte to the world in July. Older sister Georgia (2) and brother Will (4) are very excited by her arrival. We live in Silicon Valley where I've been working in high tech since Wharton. I am looking for an executive position at a Silicon Valley technology company. We would welcome visits from alums living in or visiting the area.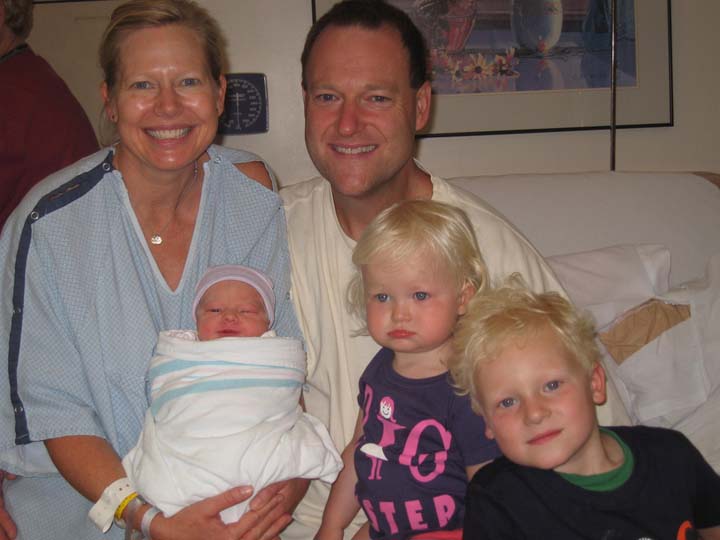 Jane Page: We had our 3rd Annual WG'91 Pre-Holiday Dinner at Knife + Fork on November 7th in the East Village. In all, 17 classmates attended, including several first timers! The gang included Lorrie King, Dawn Hines (who happened to be in from Amsterdam), Miguel Osio, Jean Brown, Karen Batchelder. Stephanie Guilpin, Evan Sturza, Amanda Tepper, Jeff Kiker, Jon Rosario, Jay Ramakrishnan, Ed Allinson, Susan Moultrie, Phil Fine, Ted Bissell, Lynne Toye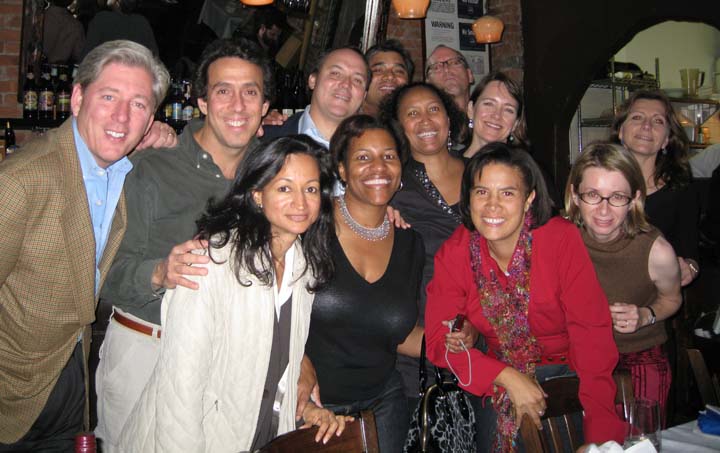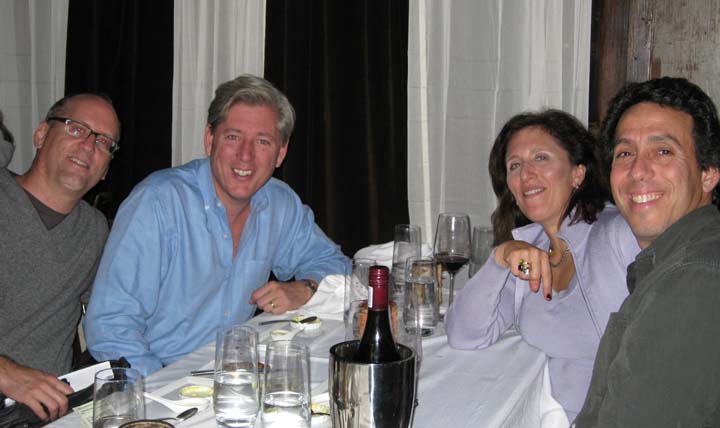 Chris Malone: Miguel Osio and I made a return trek to the North Shore of Hawaii in December '08 to enjoy the challenges of surfing in our 40's. It doesn't always look pretty, but it sure is fun!