PM Steckmest: I got engaged and married to Esenia Certan from Moldova and we will continue to live in Oslo
Jordan Foster: I married Sara Silverstein Farber on August 25, 2007. I've attached a picture from our honeymoon in Punta Mita, Mexico. Sara and I were married at Greenacres Country Club in Lawrenceville NJ, and we live on the Upper East Side. I am step-father to her 2 1/2 year old, very cute daughter named Andie. I am still Senior Vice President in charge of Consultant Relations at Fred Alger Management — a long-only Growth Equity shop. Sara is a lawyer and legal recruiter at CMRW in Manhattan. I can be reached at hjfoster@yahoo.com.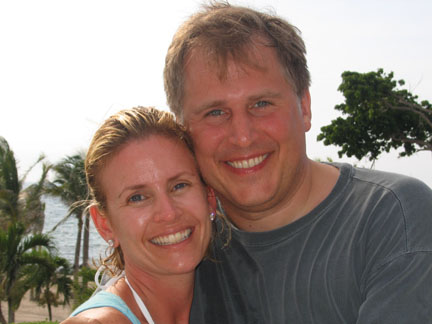 Michael Goldstein: In July 2007, I was promoted to Full Professor at Babson College. Previous to that, I have won the "Best Paper in Market Microstructure" award (awarded by Nasdaq) at the 2006 Financial Management Association meetings for my paper on Corporate Bonds and Transparency (which was published in the Review of Financial Studies in March 2007). I also won the "Best Paper in Derivatives/Market Microstructure" at the 2007 Eastern Finance Association Meetings for my paper entitled "Competition in the Market for NASDAQ securities" (which is forthcoming in Journal of Financial Markets). Most recently, I was just appointed to the Finance Industry Regulatory Authority (FINRA)'s Economic Advisory Board. FINRA is the regulatory authority of all security firms in the US (stocks and bonds). More is available athttp://www.finra.org/AboutFINRA/CorporateInformation/index.htm. Finally, for anyone trying to find me, I now hold the dubious distinction of having my home page be the FIRST thing listed if you Google "Michael Goldstein".

Alex Holcomb: Just saw Amanda Tepper and her 2 great girls in Westport. Jeff was in Florida for a gators game! I am in Boston for a big payments conference known as SIBOS. I run payments and trade for a big Australian bank called Westpac. My husband of 13 years now Andrew (Williams + Insead) who is Australian but grew up in Paris, NY and London (which of course did it for me!), just sold his equity research business to Morningstar, so now he is CEO of Morningstar Australia. We have 3 great kids, Nicholas, Samantha and Olivia aged 10, 8 and 6 (all with Aussie accents!) And a large dog named Archie (100 pound wolf hound/great dane mix-what was I thinking?) Looks and acts like Scoobie Doo. We live in Sydney (yes it is true life is a beach down under!) And spend a lot of time on our big boat and at the beach. I travel quarterly, which is manageable, mainly to India, China, Singapore and the States. Next time you are down under-look us up!
Jeff Babin: Lawrence Gelburd did a great job as he took over two of my summer Engineering Entrepreneurship classes. TheBabins (wife Kathy, Drew 11, and Liza 9) traveled to Australia for three weeks. While in Sydney, we stayed with the Fitzpatricks (Rob, Becca, Zac 15, Jackson 13, and Madi 10) — the world's most gracious hosts. We took in the sights, spent a night at the Taronga Zoo, and had a WG'91 mini-reunion with myself, Rob, Pete Doherty, David Thevenon, and Andrew Harrison. Now it's back to work consulting with Antiphony and teaching at Penn Engineering and Wharton. Just finished my 175mi City to Shore bike ride .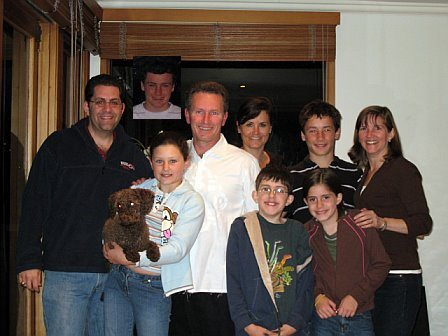 Peter Pinto: I left fortress investment group in March. I'm now living in Duck, NC and doing personal private investment. I can be reached at 973 444 5555.
Tate Garrett: Two partners and I just launched Sunrock Ventures, a new $100 million venture capital fund focused on Florida and the Southeast. Check us out at www.sunrockventures.com. I've been a VC since I joined Advantage Capital Partners in 1999, and living in Tampa (my childhood hometown) since 1995. My wife Wendy is a writer and artist, and our daughter Sophie is 8.
Rob Cain: As a Board Director of Genesis Pharmaceuticals (GTEC), I arranged the reverse merger in October of a fast-growing Chinese pharmaceuticals company to obtain listing on the U.S. OTC-BB. I have a film releasing on December 7 entitled THE AMATEURS, a broad comedy in the vein of THE FULL MONTY. I'm now raising funds for production of my next several films, which include a thriller, a teen comedy, and an action-adventure film.
Brett Sewell: My wife Christine and kids William (3) and Georgia (1) are living in Atherton, California, just north of Silicon Valley. After a summer learning how to swim and ice skate, Will started pre-school near our home. Georgia had 60 people at her first birthday bash, and she is just starting to walk. Chris is a very busy mommy, and somehow was able to undertake some marketing consulting this summer for Cisco. I am busy meeting entrepreneurs and developing ideas to start up a company. My last 3 startups were in wireless, but I'm thinking well beyond wireless in my efforts to create the Next Big Thing. I'd welcome contact from Wharton grads who are interested in startups, or even just a social visit.
Max Kozower: I recently acquired Maxwell Jacobs, Inc. the leading boutique residential real estate brokerage in the NY metro area. I have lived on the Upper West Side of Manhattan since graduation. My wife, Jane Guttenberg, and I have two children: Madeline (Maddy) born May, 2001 and Ethan born July 2005. I'm still an active tennis player but have become a golf fanatic. Jane and I play almost every Friday during the season.
Bill Feingold:   Last summer, after what proved to be a nearly 18-month sabbatical from Wall Street, I joined Goldman Sachs' Equities division in a proprietary trading role, focusing on convertible arbitrage.  Having been a summer associate here back in 1990, it only took me 17 years to make it back.  I think this is the same amount of time it took James Joyce to write Finnegan's Wake.  Not sure which was a more arduous task, but at any rate I am very happy to be back here.  Jennifer Solomon (WG 90) and I have two wonderful daughters, Abigail (5) and Elizabeth (3).  We have been living in Dobbs Ferry, in Westchester, for the past ten years.