Jacques Antebi: After a fabulous 18 months doing M&A for GE in Europe, I joined the Corporate Executive Board and returned to Washington DC. I now lead the Financial Services councils for CEB. We provide best-practices insights & tools (e.g. driving insurance cross-sales, boosting branch profitability) to our network of members. Between jobs, Susie, Michelle (14), Daniel (11), and I took a wonderful 3-week trip across Brazil.
Steven Minsky: We are happy to share the news that on Tuesday February 27th we welcomed Nina Stephanie Minsky to our family. Nina is a healthy baby girl, born 8.1 lbs and 21 inches. The family and newborn are doing great and we are getting to know our new daughter back at home.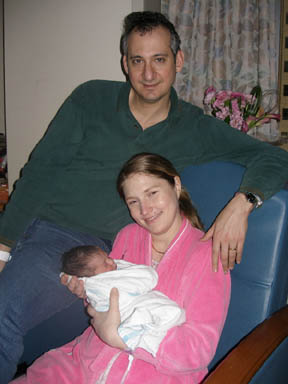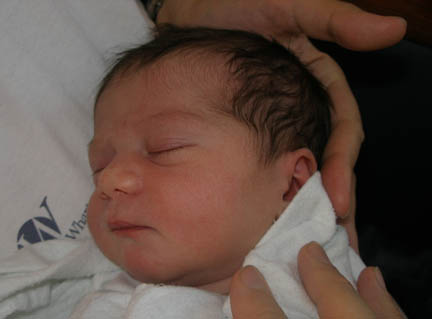 Jordan Foster: All is well in New York. Got engaged in January to Sara Silverstein Farber. Getting married in August. Fred Alger Management is going well — our long-only growth strategies are doing well, pretty much across the cap spectrum. But enough about me… Would be interested in seeing any WG'91ers in New York (hjfoster@yahoo.com).
Rob Joyce: I was elected to the Wheelabrator Group board of directors this past March. I have been president and CEO since 2006. Colleen, the kids and I have been living in Colorado now for four years and love the climate. This past year I saw fellow Cohort B classmates at an annual golf weekend (Tom Heule, Steve Collins, Pal Berg, Paul Hardy and honorary B member Jeff Hanson) and at a family ski weekend in Breckenridge at Tom Heule's place.
John Carnella: After 16 years, it must be time for an update. I currently live in Toronto with my wife and three children. Moved up here two years ago to take the CFO position with Fairmont Hotels, an NYSE-listed lodging company. About a year ago the Company was taken private and merged with Raffles Hotels, a Singaporean-based lodging company. Work is great. We love Canada and Toronto. Winters are long, but we're snowboarders, so it works for us. On a recent trip to San Francisco, I saw my Wharton house-mate Kevin Burns who is tearing it up with Texas Pacific Group. Love to hear from anyone passing through, particularly Cohort B folks.
Pat Walsh: My wife Sheila and I are happy to announce the birth of Sean Walsh in November. He joins older brothers Seamus and Liam. We continue to live in Chicago and I am a partner at Spencer Stuart.
Miguel Osio: I recently had a great surfing vacation in Costa Rica with my family and classmate Chris Malone. It was a full week of surfing every morning and afternoon, including a daylong trip to the famous Witch's Rock and Ollie's Point breaks. Having recovered from sore arms and some sunburn, we're now planning our next surfing trip. Perhaps Hawaii? Any other surfers out there?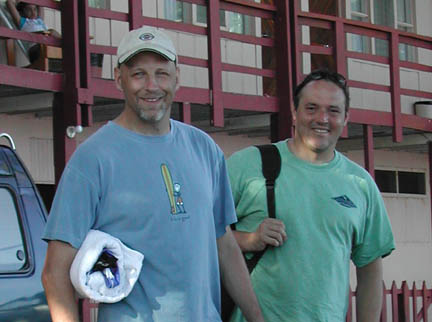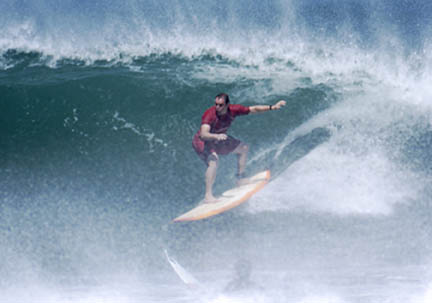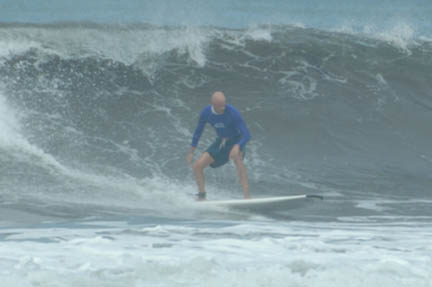 Charles Jalenak: My wife Monique and I just had our fourth child this past February. It was a baby girl named Kyra Rose. Needless to say, things are very busy around the house and it's a good thing our 15th Wharton reunion was last year so I could make it before the chaos hit. This now gives us a boy and three girls.
Steven Pinsky: I have been named Head of Private Equity Services for J.H. Cohn, the largest regional Accounting firm in the North East. On the personal side, I have begun training for the 2007 New York Marathon as a way of raising money for Juvenile Diabetes. This will be my third, and most likely my last, Marathon. If you wish to donate to the cause, please e-mail me atspinsky@jhcohn.com.
Audrey Reny: I don't think I have submitted an update in over a decade…I live in Boston on Beacon Hill in a townhouse that we restored 5 years ago. My daughter Danielle (14), loves horses and my daughter Gillian (12), loves ballet. I work part time as Director of Marketing for The Abbey Group, a family real estate business. We are building Boston's newest luxury condominium tower,www.45province.com. Call or visit if you are ever in Red Sox nation!
Cristina Infante and Gordon Lucyk: We reconnected at the Lauder Spring Conference in New York in 2004 and then spent the spring and summer traveling around the US and Canada together. Tina watched Gord break his first sub 4:00 marathon at the Flying Pig Marathon in Cincinnati and Gord coached Tina to a personal best in the Flying Pig 5 km (0:40). Tina also saw him complete his second New York City Marathon the following year. We explored the famous white sand beaches in the Philippines the following summer. Impressed by the northern Canadian balmy winters, Tina moved to Canada. We were married in a June 2006 ceremony in Edmonton, Canada attended by family and friends. Tina is commuting between Edmonton and Vancouver to complete a PhD in Resource Management and Environmental Studies at the University of British Columbia. Gord teaches International Business and Finance at MacEwan college in Edmonton. We are planning a trip to Manila, Philippines in May to visit family members.