Pat Walsh: My news is that I relocated to Minneapolis with my wife Sheila and 3 sons (Seamus 12, Liam 9, and Evan 3). I am running the Industrial Practice at Spencer Stuart and the Minneapolis office. Recently reconnected with Frank and ChristineWheeler and their sons.
George Montague: After spending seven years in Los Angeles, I recently relocated to Minneapolis to serve as Vice President, Finance and Strategy for Medtronic's Restorative Therapies group. I am really enjoying the expanded role, although it was difficult to say goodbye to LA where I regularly saw fellow WG '91 alumni Lee Herzog and Mark Cregar.
Jean-Yves Charlier: After turning around one of Fidelity's largest private investments, Colt Telecom, I co-invested and took on the role of chief executive position with Promethean, one of the world leaders in the fast growing market for interactive learning technologies. Great business that we took public earlier in the year, as it is at crossroads between enjoying a high-growth business model and serving a social purpose. Today, our products are used in over 600,000 classrooms across the world by over 15 million students. On the family front, Alexandra and I now live in Brussels and have 4 children. Our eldest daughter is off to Babson at the end of the summer.
Tom Heule: Enclosed is a photo of the Cohort B Father – Son sailing expedition to Camden Maine and Acadia National Park. Captain Larry Ioffredo, with son Michael (13), First Mate Pal Berg with son Eric(16) and Galley Slave me with my son John (18).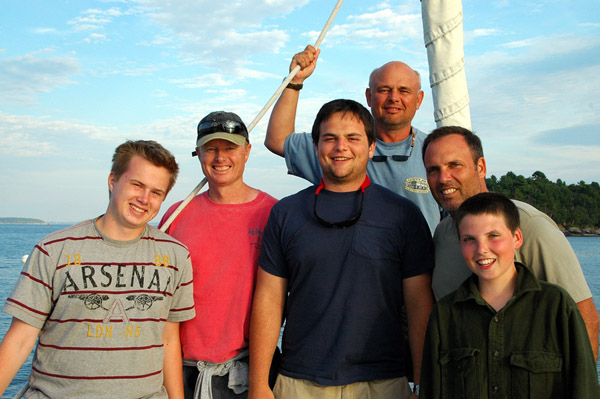 The captain and crew enjoyed a week of high adventure and high calorie lobsterfesting. Larry and John Heule are now certified captains ready to take Wharton Alumni on sailing adventures all over the world as long the basic dietary needs of fine food and wine are met.
When Larry is not at sea he is a fund manager in NYC, Pal and Tom are partners in a private equity firm in Denver. All three plan to attend the reunion in 2011 where Captain Larry will be offering sail boat rides at Penn's Landing on Saturday morning of the reunion weekend.
Kacey Carpenter: We are very busy this fall with all four teenagers in high school (2 seniors, sophomore and a freshman). All doing great in school, playing sports (football and cross country), and our seniors writing those college application essays. I'm looking forward to the reunion and seeing everyone again after 2 decades!
Rick Deitch: In August my partners and I sold our data center hosting business and related technology equipment leasing business, both of which began operations in 2006, to a private equity shop (GI Partners). I now hope to do nothing for at least a little while, other than help my wife with our four kids, now ages 8, 11, 13 and 17.
Peter Ax: My wife, Beverly Bradway Ax, and I continue to live in Paradise Valley, AZ raising their three children: Sam (15), Meryl (13) and Sophie (11). Sam is now a Freshman at Andover in Boston which means lots of cross country travel for the Ax family. Peter continues to operate a private investment firm based in Scottsdale, Phoenix Capital Management. Beverly is the Head of the Board of Trustees of Phoenix Country Day School where their children attend school. Over the years we have connected in person with at least a few WG '91 alumni including Jim Cahill, Tom Huele, Pal Berg, and Mark Stone.