Steven Pinsky: After spending the last 5 years consolidating and turning around a group of pet products companies, we successfully merged Quaker Pet Group with Worldwise in May. With the deal behind us, I recently became the CFO of Kiska Developers, Inc. Kiska has three operations including heavy construction, hospitality and real estate development. Also keep an eye out for "Idiom Savant", a new party game I invented coming out in the fall.
Rob Fitzpatrick: Fantastic winter Sydney sunshine for an impromptu Wharton gathering at our place when Grant Wilson flew into town from his current home in Firenze, Italy. Joining were Linda Jenkinson with husband Nick & kids Tristram & Isabelle, Andrew Harrison, Peter & Jan Doherty, and David Thevenon. Apologies from Alex Holcomb.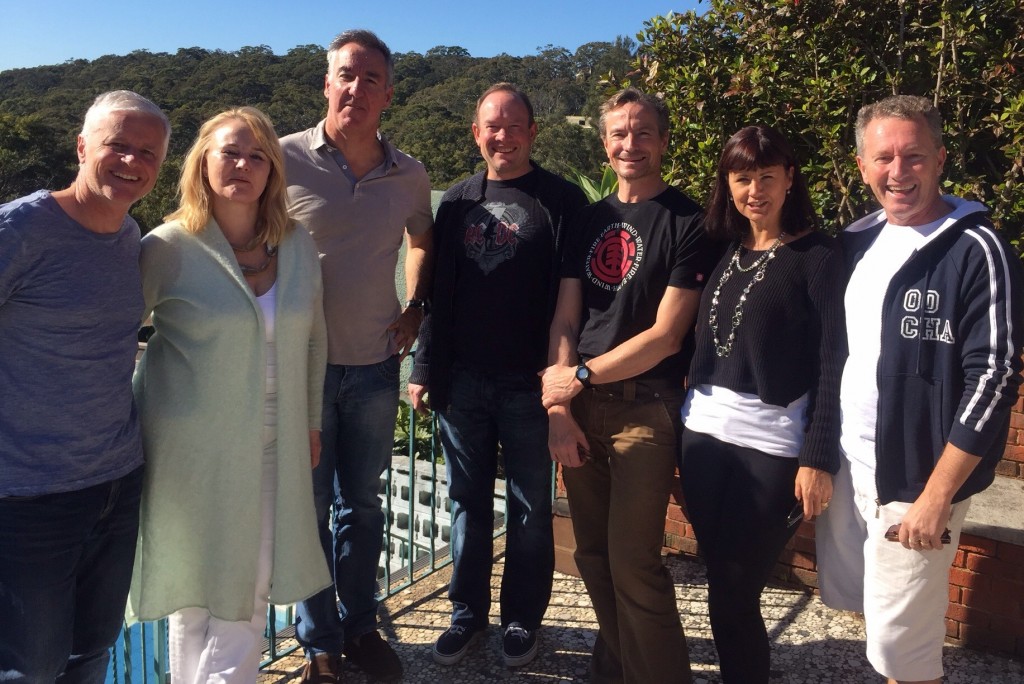 David Huff: We had two Wharton reunions this month – one for the Aussie/Kiwi gang – Rob Fitzpatrick, Grant Wilson, Andrew Harrison, David Thevenon, Peter Doherty…and another with Alex Holcomb… and another with George Hongchoy… So fun to chat about kids leaving home – and the next phase of life…
Cris Brookmeyer: Retired and living on the C&D canal in Maryland. Keep active serving on the boards and Finance committees of some local NFP's.
Chris Fitzgerald: After 18 months as CEO of American Dryer Corp. in Fall River MA, we just sold the company July 2nd to Whirlpool Corporation. Considering next moves, probably with another PE portfolio company. Home base is still CT, but with last child, Jack, on to Fordham University next year, Joanne and I may expand our geographic restrictions.
Kacey Carpenter: Last month I just had a nice sushi lunch with Shuji Utsumi (WG91) in Tokyo with my son Rob who is studying and traveling in Japan this summer. Almost entire family made the trip to Hudson Valley to celebrate Cass' Vassar graduation. Very busy with all our colleges kids working summer jobs and traveling. I am planning more international business travel with next steps in Las Vegas (August), London (September) and Singapore (November) and hope to have the opportunity to catch up with other Wharton grads around the world!