Sean Crotty: I arrived in March at my new position as Director of Business Development at PARC (née Xerox PARC) to find WG '91 classmate Amy Hawman running the Marketing department down the hall. It's very nice to have someone you know when you land at a new place. PARC has a legendary history of inventing laser printing, the ethernet, and many other ubiquitous technologies, so I've dusted off my engineering knowledge to keep up with the new research that our 200 Ph.D.s in the building generate. I'm having a great time hunting Global 500 business partners to take our technologies to market & just closed my first million dollar deal for them on the 99th day here.
Jay Ramakrishnan: Currently part of a $1.0 billion private investment fund, investing up and down the capital structure in largely private middle market companies. Managing Director- Barclays Private Credit Partners LLC. Live in Short Hills, NJ with one daughter, Maya, 14 years old.

John Gernon: My wife, Dr. Rebecca Brienza, and I live in Southport, CT. We had our 10th wedding anniversary in May and are both having our 50th birthdays this year. To celebrate, we are taking a safari to Kenya and Zanzibar in late October. I just passed my ninth anniversary at Morgan Stanley Investment Managment where I am Managing Director and Head of Product Development and Global Portfolio Attribution and Reporting for the Long Only Investment Business (equity and fixed income).

Chris Fitzgerald: I'm working as CEO for Control Devices LLC, a PE-owned specialty valve manufacturer in St. Louis, but I've been commuting weekly from home in Connecticut. Would love to connect with other alums in St. Louis.
Noreena Hertz: Lots of travel ahead this fall as my new book, Eyes Wide Open: How to Make Smart Decisions in a Confusing World, is coming out in September 2013 in the UK, US and Canada, with a dozen other countries including China, Japan and Brazil publishing later in the year. It's the result of six years of work, and I'm honoured to already have received some great endorsements from such distinguished business leaders as Dominic Barton, McKinsey & Co CEO, and Michael Lynton, Head of Sony Pictures Entertainment. Please do get in touch on nh@noreena.com if you want to know more.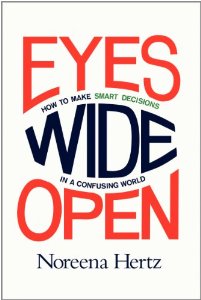 Chris Malone: Like Noreena, I also have a book coming out this fall. It's called The HUMAN Brand: How We Relate to People, Products & Companies and I've written it with a renowned social psychologist at Princeton. I am indebted to many of our WG'91 classmates who provided invaluable input and feedback along the way, including Gary Schanzer, Mike Faherty,Noreena Hertz, Linda Jenkinson, Anil Periera, Lutz Braum and many others. More details are available athttp://TheHUMANBrand.com.