David Chua: Christina and I welcomed the birth of our second son Jared Wei-Der Chua on 7/10/07. Three year old Caleb is very excited over the arrival of his little brother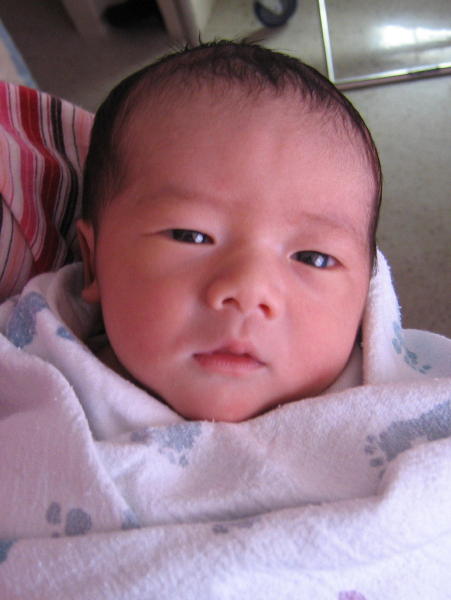 Mark Thomas: I'm enjoying life working out of the Silicon Valley office of Nokia helping turn the mobile phone giant into an internet company! Kate and John are now 11 and going into 7th grade. I have lost touch with many of my SF based Wharton counterparts but would love to hear from any of you out west! (mark@digitalthomas.com).
Rob Cain: My film production and distribution activity has ramped up considerably this summer: My company's film BROKEN ENGLISH (Parker Posey, Gena Rowlands) opened to good reviews and solid business in July; my film LAURA SMILES opens in New York and LA in late July; THE AMATEURS (Jeff Bridges, Joe Pantoliano) and THE MYTH (Jackie Chan) will release this fall; and FOODFIGHT! (Charlie Sheen, Eva Longoria) and MONGOL release at the end of 2007. I'm always looking for partners and would welcome contact from Wharton alums. rob@sparkLLC.com
Ted Nash: Since my last update three and a half years ago, a baby boy (Benjamin)was born into our family in April 2005, bring our children count to three. Shortly thereafter, I returned to the M&A advisory business(still with the CIBC group) to run the firm's Canadian practice. Work is moving at a blistering pace, perhaps peaking in recent weeks with our work for Rio Tinto on its pending acquisition of Alcan to form the world's largest aluminum company and for Bell Canada on its pending sale to Teachers/Providence/Madison Dearborn as the world's largest everleveraged buyout.
Linda Jenkinson: Well so much has happened since I last posted.. I have a little girl Belle who just turned 3 – I am owner and CEO of LesConcierges and have just set up an Western African investment fund and foundation with a group of global women.. Basing myself out of Mill Valley and San Francisco, California.
David Steinberger: Since 2005 I have been President and CEO of the Perseus Books Group, which is now the largest independent company in the book publishing industry. The company is owned by the private equity firm Perseus LLC. I am living in New York with my wife Dara Caponigro, daughter Sofia, son Stefan and our dog Lily.
Marian Merritt: I'm in a brand new role – that of Symantec's first Internet Safety Advocate. After ten years managing Symantec's consumer product teams and then overhauling our corporate web properties, this is quite a challenge! I'm on the road a lot more, representing Symantec in government and community efforts and am currently partnering with Miss America 2007, Lauren Nelson, to promote online safety for children. I've also been featured in a number of publications discussing the current internet threat landscape and practical solutions for consumers. A little public speaking to date, too. I have to admit, getting to try on the actual Miss America tiara was, to say the least, a giggle. Could I possibly be the first Whartonite to do so? Please visit my "official" website,www.norton.com/familyresource. Jon and the kids are doing really well (though we all wish I were home more) and we'll be taking a break this summer with a visit to several national parks.
Diane McGrath: My husband Vincent Toolan (WG/G 96) are thrilled to announce the arrival of our first child, Christopher Austin, born January 4th in Guatemala. St. Christopher, who is the patron saint of travel, is an appropriate name for a child who will criss-cross the United States, UK, France and Gibraltar in the first months of life. Many more trips are planned to take advantage of my generous maternity leave from Reckitt Benckiser as Global Head of Licensing.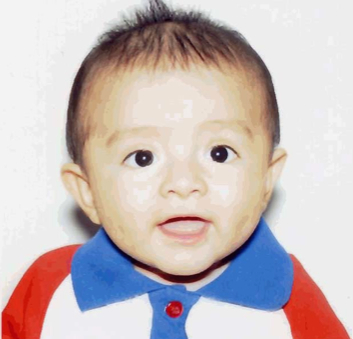 Theresa Clouser: I'm now an Executive Director in Global Marketing at Amgen in Thousand Oaks, CA. I help bring our pipeline biotech cancer therapeutics to market globally, and recently launched the company's first targeted therapy, for colorectal cancer. My son Evan is now 3 years "young" and very ready for T-ball. My husband Eric is a real estate investor and hopes the Fed lowers interest rates soon!
Tina Winfield Achkar: I am living in London with my husband and three boys, Jeremy 13, Paul 11 and Lucas 6. I am a freelance marketing consultant and am trying to write my first novel. I also volunteers my marketing skills for a couple of charities including, Over the Wall, a charity that sends critically ill children to summer camp. My own kids are at summer camp this year in the States and I know how great an experience it can be.
I co-founded the Wharton Women's Network in London which meets monthly over informal dinners and enables women to brainstorm and network with other Wharton grads. If you would like to know more, then please contact me via email ont.achkar@btopenworld.com.
Bill Feingold: I recently joined Goldman Sachs for the second time (the first was as a summer associate in 1990) as a Vice President in the Franchise Risk Management group of the Equities division. I'm still living in Westchester with my wife Jennifer (WG 90) and two daughters.
Anil Pereira: After a year in 'stealth mode', I just launched SecondSpace—a new online services company that serves owners and buyers of vacation homes, resort properties and rural retreats. The company is off to a great start with the launch of its first two destination web sites—LandWatch.com and ResortScape.com. Sheri, I and our 3 children are still living in Seattle and make our "SecondSpace" in the Gulf Islands of British Columbia.
Carolyn Fritz: I always enjoy reading everyone's updates so I thought I would send in one of my own. I am living in San Diego now. I have been the CEO of an early stage biotechnology company called Allylix for the last two and a half years. Our company is developing new flavors and fragrances, two of which will be commercialized next year so it's a very exciting time for us. My daughter graduated from Harvard this spring and is working in Boston. My son will be a sophomore at Princeton this fall. It's hard to believe they are both grown – time went by so quickly. If any of you are heading out to San Diego, please give me a call.
David Ghighi: I have moved to Riyadh to take on the challenge of building the corporate finance group for a new Shariah-compliant investment company. At the core, we're an exclusive private bank catering to the leading business families in the Kingdom. These businesses are often 'not small' and always want to play major parts in helping the country invest wisely its oil profits. That's where we come in. Had it not been for my fiancée Gloria, who's growing up in Italy gave her a love of the Arab world (in Sicily, you're closer to Tunisia than to Rome, and not just geographically), I'd never have been able to pursue this. We are getting married next week and her visa should be in hand by end-August inshallah.
Jeff Anderson: The DC area chapter of the Wharton Dinner Club had its summer gathering at myhome on 15 July. Lance Crist, Maria Kozloski and Mark and Kathy Lippman were in attendance. Unfortunately charter members Rob and Kristin Urbach couldn't make it. Started about 4 years ago, the WDC as its known globally was a way to 'force' friends to get together and share secrets about cake eating, running and cycling tips, child rearing clues as well as whats going on in our generally 'busy' lives. Busy…who's busy these days…come on!!! See picture – My daughter stepped in since I took the picture.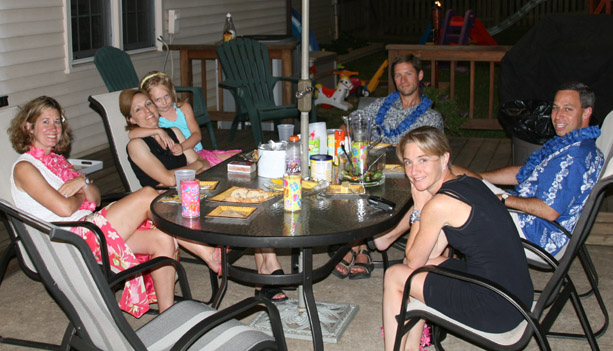 Hosting dinners aside, I have over the past 18 months started riding my bike again more competitively than I have the past 10 years. As part of a small developmental team in Northern Virginia, I've represented my sponsors at the US Cycling Championships in Cyclo-Cross, Road Racing and Mountain biking over the past 9 months, the latter two just recently during July. I raced my tandem with one of my teammates at Road Nationals to a Bronze medal in the Tandem Time Trial – missing the National Championship by less than 6 seconds as well as participated in an epic championship race at Mt Snow, Vermont on a course described as a 'rider slayer monster'. Its great to be back on the bike and feeling those competitive juices flowing again. I continue to do consulting work as well as Mr Mom duties.