Tim Nash: Looking forward to seeing WG '91s at our reunion this spring. I have seen Jonathan Kelly, Jamie Seppala, John Raveret, Greg Markel and David Hallagan on occasion and I am hoping to travel with a few of those brave souls in May. After 20+ years of serving institutional clients for Fidelity and US Trust, I recently joined Citi Private Bank to serve the ultra high net worth segment. Still learning a lot and still living in the Boston area. Jody and I have three wonderful daughters and everyone is healthy. Hope to see many of you in May. Best wishes.
Simon Guenzl: On June 1, 2015 I relocated to Richmond, VA to begin a new career as the Director of Private Equity at Spider Management Company. Spider manages the endowment for the University of Richmond, as well as the endowments for a range of other non-profit institutions. I cover our buyout and growth equity fund investments globally. If anyone is coming through Richmond, let me know.
Mark Thomas: Happy New Year! My wife and I had been living in Berlin for several years as an expat with Nokia. We moved back into our home in SF last year and are loving getting reacquainted with the city again. So much changed in a few years. Hipsters everywhere! It seems that the Internet of Things — and specifically connected cars — are going to become the next consumer internet revolution, so I quit Nokia and joined a start up in that space. I now get to combine my passion for cars with my geekier tech side and am working with the large auto OEMs on bringing app stores and internet business models to vehicles. On a personal note, my 20 year old twins are doing great. Daughter Kate is going to Rice and son John is transferring into Berkeley. Been married now 11 years to my lovely wife Marianna. Would love to reconnect with the Wharton community in SF area or visiting out of towners!
Anna Nekoranec: My year has been filled with lots of excitement. After a number of years of making private investments with family offices on my own, I launched a new business called Align Private Capital to formalize the process. We work with family offices with over $500 million in assets under management to make direct investments in real estate and operating businesses on a global basis. One of our first transactions has been with a family investing in the US, Peru and Argentina. I am partnered with a Florida based family and the former CIO of the Collier family. On the family front, my stepdaughter recently moved from Hong Kong to Chicago with Citi and appears to be on her way to London. The twins are about to turn 10 and are an unbelievable amount of fun. They are avid tennis enthusiasts and skiiers and have never met a risk that didn't seem appealing. Surprising, yes? Highlights of the year included attending Karen Batchelder's 50th birthday on the beach in Tulum and participating in the Fireball Run which was a road rally to bring awareness to missing children in America. I am not sure which event was more dangerous or exciting. In Tulum I survived wandering peacocks, extreme yoga and cenote diving, while on the road I was up against other challenges. I ended up co-driving with my husband for part of the rally and with another friend for the rest. Against all odds, my friend and I managed to stay in first for 6 days before our strategy unraveled. This was purely attributable to my friend's racing skill and her car. It was a bit of a trivial pursuit game on wheels and was so much fun that we have signed up again (in spite of the fact that it was televised and may be released on Netflix!) Looking forward to seeing everyone at the reunion!
Kacey Carpenter: Happy New Year! It was a busy holiday season with my trip to Seoul Korea and college kids home for the holidays. Kathy and I enjoyed the quality family time with Cass, Rob, Emma, and Kevin home for a few weeks. I also had the opportunity to meet Senator Bernie Sanders at a rally in Reno and will continue to get involved in the 2016 campaign. Hope to see some of you in the New Year (I will be traveling to Berlin, Seoul, Philly, and Amsterdam) in 2016.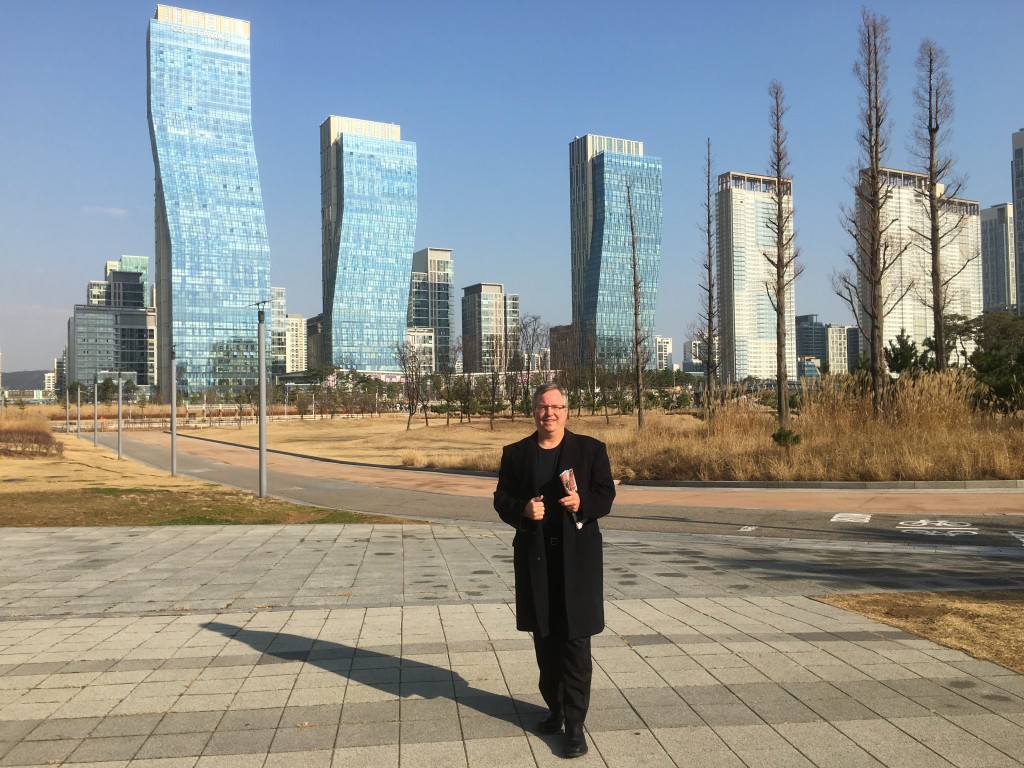 Jad Arris: Dear friends, I have just moved from Paris to Dubai, where I am now CEO of the MEA (Middle East & Africa) region for the AXA insurance group. I wish everyone all the best for 2016!
Sanjay Sehgal: In the summer of 2014, Lisa and I moved back to the US from Singapore. We spent 18 years between Hong Kong and Singapore. We bought a house in Princeton, NJ and spent a year and a half renovating it. Enjoying the pleasures and travails of a first-time home owner. Our oldest is a sophomore at UCLA and loves it and our younger two are at Princeton High School. I still go back and forth to Asia every quarter for my East West Capital Partners, investing in life sciences and healthcare globally. Look forward to catching up at the reunion.