Chris Malone: My own annual update is also available online at http://www.ga.malone.org/Whats_new.html.
Jane Page: We had our 2nd annual WG'91 pre-holiday dinner in NYC on November 2nd at Freemans on the Lower East Side. Victor Mandel (not pictured), Miguel Osio, Karen Batchelder, Susan Moultrie, Jean Brown, Ed Allinson, Lorrie King, Evan Sturza,Stephanie Guilpin, Lili Dumelle, Chris Malone and I were in attendance. A great time was had by all!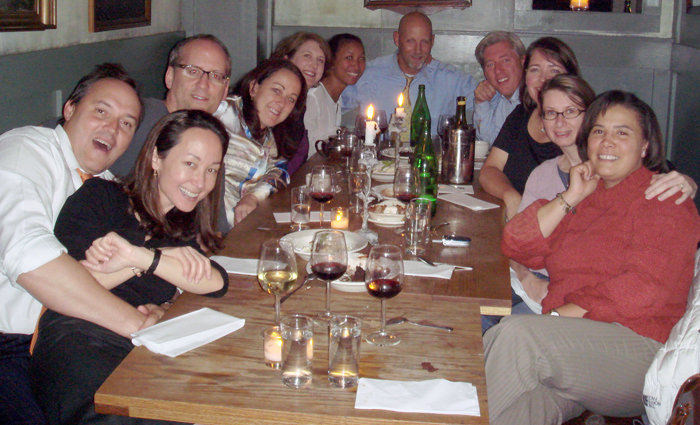 Vartan Karakelian: Happy New Year! No major news on my end. Still with Merrill Lynch in the Private Client group. Other than work, I've been fairly active in the National Exchange Club, a non-profit group that works to prevent child abuse and have assumed more regional leadership role with the organization. Good group of people and a good mission. Was also recently in contact with Troy Dyer, another WG91 alum who is now in South Africa. That's about it.
Lawrence Gelburd: 2007 was a fine year for us. Anita is now a Senior Project Leader in Penn's Information Systems and Computing Group, and I continue teaching Entrepreneurship at Wharton in a variety of programs. This summer I also taught an engineering entrepreneurship class for graduate and undergraduates thanks to Jeffrey Babin (Cohort M '91!). I've also completed my second recording project, co-producing musicians with grammy-winner Phil Nicolo (www.myspace.com/philnicolo). I was fortunate enough to be a panelist on MSNBC's show "Your Business" broadcast on 12/9/2007 and should be appearing on a Bloomberg on-demand segment about writing business plans this quarter. Would be happy to hear from you all!

Michael Murchie: Life is good in central Pennsylvania. My wife Alison and kids (Hugh-8 and Anna-6) are enjoying school and our community. I have working at M&T Bank since I left Penn in 1991….wow. I enjoy commercial banking and M&T's culture. I recently ran into another classmate, David Applebaum at a bank group meeting in Harrisburg, PA. To all alums, please look me up if you are traveling to central Pennsylvania
John Fadool: I continue to enjoy Darden Restaurants and Red Lobster. We are making tremendous progress in refreshing the Red Lobster Brand and I am enjoying leading the Culinary & Beverage Team. The acquisition of RARE (LongHorn & Capital Grille) will continue to make things challenging! Margot is enjoying her new job as an Assistant Professor at Rollins College and Max (10) and Jake (7) love Orlando and all the attractions. We love seeing friends so please look us up when you are in Orlando.
Thibaut de Chassey: I have joined in 2007 the Management Board of private equity firm AtriA Capital Partenaires, which arranges small to mid cap LBO transactions in France. It sounds like I forgot to disclose the birth of my 4th child and 1st girl Quitterie on January 2, 2006. Quitterie is now 2 years old and the most beautiful babe in the city. My wife Benedicte is expecting another baby for mid June 2008. The miracle of French kisses…
Gus Long: In September, 2005, took a terrific opportunity and rejoined a former colleague from Bankers Trust as a Partner at Stanwich Advisors in Stamford, CT. Stanwich is a boutique investment bank, focused exclusively on providing advisory and fundraising services to private equity and venture capital partnerships globally. Whole family is doing well. Recent milestones; Wife, Lori, turned 50, daughter, Jessica, a junior at Vanderbilt, turned 21. Daughter, Stephanie is a sophomore at Boston College and son, Gus, a senior at Summit Country Day (anxiously waiting to hear). Villanova still tops the list. Youngest, Caroline, a sophomore at Summit, is thrilled at the thought of finally being the oldest child at home! Warm Regards to all from the WG Class of '91,
Carolyn Gibbs: On October 13, 2007, Rick Nelson and I were married at the Museum of Fine Arts in Santa Fe, New Mexico, with dinner following across the street at the historic Palace of the Governors. Many friends and family members joined us for the weekend including Alison ('91) and James Wheaton from London, Bharati Jacob ('91) from Bangalore, India, Elizabeth Olson ('91) and her husband Eric Jensen from Minneapolis, and Rene ('90) and Jennifer Limacher (and their great kids Anya and Nicolas) from the Boston area. The aspens were absolutely spectacular, as was the weather. We had so much fun we wish we could do it all over again! Rick and I continue to live in Houston.
Rick Barsky: I've been running a biotech drug development company (Agennix) since 2000. We have a drug (talactoferrin) that appears to have good activity without significant toxicity in multiple cancer indications. We have conducted three double-blind, placebo-controlled, Phase 2 clinical trials that all met their primary endpoint, and are now raising funds for Phase 3 (the final phase of clinical trials) and as a bridge to an IPO. I can be reached at 713-552-1091.
Miguel Osio: Hi guys! Laura (NA), Miguel Jr. (16), Alejandro (12) and I decided to move back to Manhattan after a couple of years in Manhasset, Long Island. It is difficult to get use to the beautiful suburbs after spending so many years in the City. The boys missed their school and friends and were also eager to go back to their city life. Miguel Jr. is playing football, lacrosse and Ice Hockey. Alejandro plays hockey, lacrosse and wrestling. Laura continues with her Real Estate activities. I continue working in Morgan Stanley Wealth Management. After a Surfing trip in Costa Rica last spring, Chris Malone and I decided to go to Hawaii to test our surfing skills, and to watch the Billabong Pipeline Masters at Banzai Beach on the North Shore. We hope to repeat this trip every winter!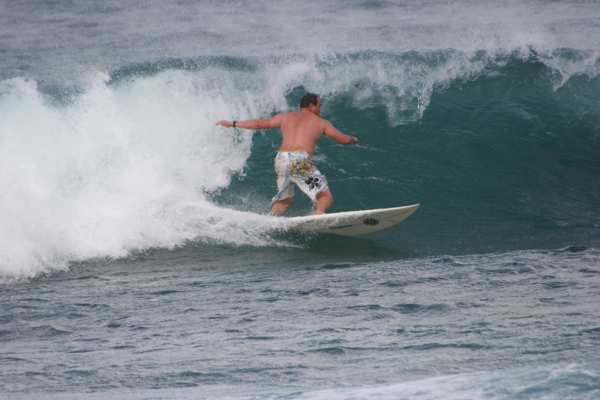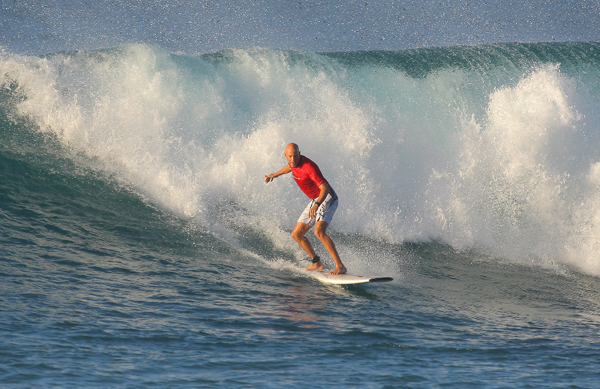 Keith Goldberg: I have just started a new job with Merador, a consulting firm helping corporations meet their performance goals. Robin (WG '90) recently joined Blurb, a high tech start-up allowing anyone to make their own books. The kids (Jeremy, 12 and Matthew, 9) are great and growing quick.
Tammy McLeod: Happy New Year to all and greetings from Paradise Valley, AZ where global warming pushed 30 of our summer days above 110 degrees! It's quite a challenge to have a personal and professional opinion of the weather that are not in alignment. I'm still working for Arizona Public Service where I was recently named Chief Customer Officer. Our family is enjoying the enormous snow base at ski resorts here in AZ, in Colorado and at Tahoe. After work I've begun writing more seriously and was recently highlighted as one of the "New Voices" of Phoenix. All of this is fun and appreciated much more after my battle with breast cancer right around the time of our last reunion. Please call if you're in the area.
Dawn Hines: While the 2007 Paris-Dakar endurance car rally failed to take place, a new WG'91 Paris-Dakar effort has risen to take its place! It all started 3 years ago in a trendy bar in Paris. Natasha Quist, Linda Jenkinson, a Californian friend of Linda and I were sitting in Café Marly across from the "Pyramids" of the Musée du Louvre in Paris. Natasha was 2 years into her post as Director, West Africa for Oxfam (a British aid & development organisation) based in Dakar, Senegal, and I had begun to work on a marble quarry investment project in Dakar.
Over a bottle of St. Emilion, we discussed the opportunities and challenges that Natasha and I had experienced first hand in Senegal. Natasha (ex-NIKE Head of Strategy, Europe) advised the group to "JUST DO IT." By the end of the bottle, we toasted to "DO SOMETHING" in Africa. Following bottle #2, Linda and her investor friend promised to "FINANCE EVERYTHING" that Natasha and I might dream up.
In May 2006, Natasha and I organised a 10-day business, cultural & leisure tour of Senegal for classmates Linda and Heather Potters, and 12 other women from the U.S. and Europe. Highlights of the trip included a 14-hr(!) drive to the marble quarry of my client in Kedougou and an audience with President of Senegal, Abdoulaye Wade (see photo).
In October 2006, Linda and I, along with several others launched an investment fund to invest in small women-owned businesses in Senegal. Linda continues today with the fund (WOW Investments) and Natasha, Cyrille Arnould (Head of Investments in Africa for the European Investment Bank) and I have gone on to launch another pan-African venture.