Jordan Foster: We moved, this past summer, from the Upper East Side to Scarsdale. Kids delighted at having a yard, trees and more space. Marshall Wace (where I've worked for the last 5.5 years) relocated from Greenwich to NYC, so enjoying our office at 51st and Park. I walk to the train and life is grand. Wishing my classmates happiness and health in the New Year. Had lunch recently with Ted Bissell, Marilyn Schwartz Adler, Arun Gowda, Sami Karam, Evan Sturza and Mike Ryan. Good times.
Lucinda Duncalfe: I'm still in Philly, where I recently took over as CEO of Monetate, a software company that enables brands to personalize their customers' experiences online, on mobile, and in email. I continue to chair the board of Real Food Works, which I founded in 2011 to help people live healthier lives by eating real food.
Miguel Osio: 2014 was a great year!!! I had my L5/S1 spine fused during a 5 hr surgery and 5 weeks at home, traveled to Dominican Republic, Madrid, Lima, and Paris and still standing. Family growing and we are all in New York, except for Ale who is a sophomore at Tufts. Chris Malone and I also just got back from surfing in Hawaii. Aloha to all!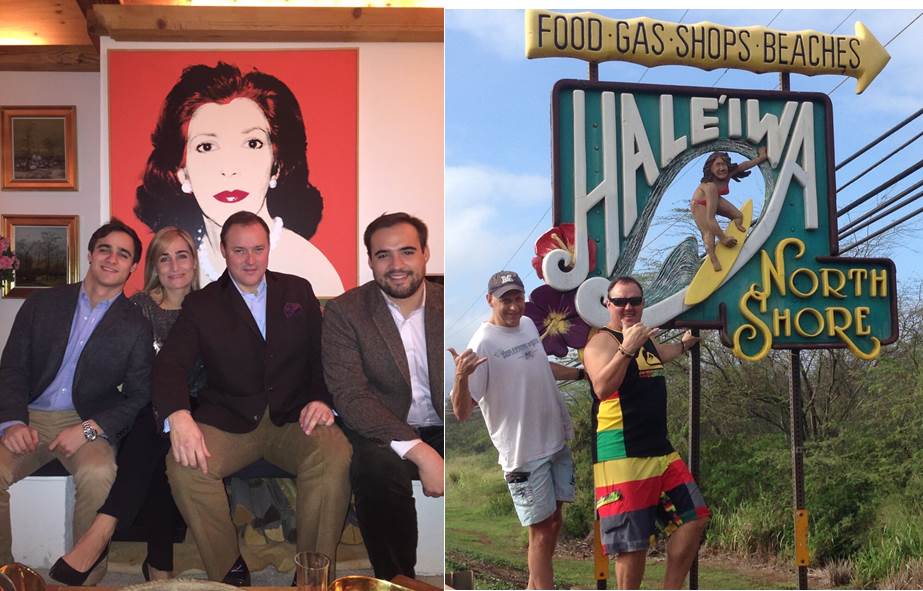 Colly Burgwin: Retired as CFO of Green Tree School 2 summers ago. Bored out of my mind. Un-retired about 8 months later. Currently CFO for a think tank in Philly called the Foreign Policy Research Institute. Still living in Paoli, with beach house in Rehoboth DE. Kids all grown, but all in area. Doug is in brokerage unit at Vanguard. Chelsea pursuing PH.D in genetics at Drexel. JJ in Business program at West Chester.
Cyrille Arnould: Still living in Luxembourg (45 miles north/south and 25 miles east/west). I keep developing renewable energy production in developing countries in an attempt to make up for all the carbon I generate flying around the world. In fact, I spent 2014 raising capital to finance the next batch of projects. Most of the commitments are signed in, still ironing out the way for our US investors (these pesky FATCA / EDGAR regulations…). The business is good for the planet, for the people and yes for profit!! Most of these countries cannot afford to subsidize fossil fuel and the price of wind, or the sun, or water and other sources of renewable has been pretty stable for the last few centuries at around zero!! The nest is emptying; Madeleine is now an art student in NYC, Jacob studies (sorry "reads") physics in Scotland and Beryl is enjoying a couple years of being a single-child before leaving Lisa and I to our ATM fate. So do not hesitate to surf-couch at our place, there is ample room for those who wish to add a Grand Duchy of Luxembourg stamp on their passport!!
Natasha Quist: Greetings from sunny Miami where old pals Monica Avellaneda, Rich Cannon, Jane Page, Dawn Hines and I gathered to celebrate the new year and test our pyrotechnical talents. Monica and Rich were celebrating more than twenty years of blissful marriage. Monica works for MasterCard International managing their Latin American operations and Rich is a hedge fund manager but spends most of his time playing golf and teaching his two daughters Sofia and Isabela to play golf. He has clearly been inspired by the Williams sisters and hopes to have similar success with the Cannon sisters in golf. Monica has aspirations to be the Latin 'Martha Stewart'. Not only is she able to cook a 5 course meal for 20, her home is a superb mix of Caribbean, French and Mediterranean influences and it was recently featured in a spread in Our Town and Country!
Jane is still the fashionista that she was at Wharton. She recently left New York and will soon join the fashion crowd in LA. Rumor has it that she was recently in Colorado, where she was seen dining with a certain very muscular classmate who displays his physique on you tube in the ALS bucket challenge. All those muscles but he still cannot move quickly enough to catch Jane! Get your skates on dude!
Dawn Hines and her handsome son Ruben flew to Miami to escape the Michigan snow. Dawn spends half her time in Ann Arbour where she is CEO of Hines Industries and the rest of her time in Senegal where she has launched an Africa Agricultural Investment fund. My adorable son Kyle and I now live in Senegal (after a 3 year stint in Cameroon) where I work for the charity Save the Children. I sit on Dawn's board of directors while attempting to launch my own regional trading firm. Kyle and Ruben are big buddies.
Also in early January, Dawn popped over to the Florida Keys to visit classmate Anna Nekoranec and her charming German Viking husband Bengt. Outside of building their private equity and family office empire, Anna and Bengt are busy trying to keep up with their darling twin daughters, Sophie and Chloe, who both graduated magna cum laude from kindergarten and are currently wowing their tennis coach and 3rd grade teachers. They also wowed Dawn's son Ruben, who was smitten as soon as he walked through the door.
Allison Lees who is now based in Morocco was planning to join the Miami party but had to postpone. I went to visit her in Casablanca in early January where they created a dust storm in the hammams of the Medina!