George Hongchoy: I was headhunted to join Link Management Limited (www.thelinkreit.com) in January 2009, which led me to leave investment banking after 18 years. I started as CFO of this company which manages a REIT with US$6 billion of shopping centers and car parks in Hong Kong. I was appointed as CEO in May 2010. The children are now 14 and 11: Natalie left for boarding school in September and Adrian will do so soon. It is amazing seeing how quickly they have grown up. See everyone in May at the Reunion!
Diane McGrath: In October, I travelled from California and Patty Dhar flew in from Delhi to attend the Breakthrough charity gala in NYC. Patty and her husband Madhav were honored with the Leadership Award.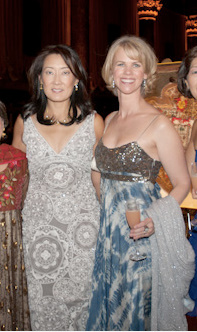 Jeffrey Babin: 2010 was a great year and 2011 is shaping up to be fun as well. I finally feel like everything I do is well-integrated under the umbrella of Innovation and Entrepreneurship. Just signed on for another term as Senior Lecturer and Associate Director of Penn's Engineering Entrepreneurship Program and really enjoy teaching those courses.
For the Wharton Global Consulting Program, I now have responsibility for Australia, India, and Israel (don't ask for logic). This allowed me to take the family (Kathy, Drew (15) and Liza (12)) with me to Israel and squeeze in sightseeing in Israel and a couple of days in Jordan before dropping them off in Philly on my way to Australia. Unfortunately, was not able to connect in person with Rob Fitzpatrick or Andrew Harrison, though both are doing well. I hope to catch up with them soon either in Philly or Oz. Was able to sign Lawrence Gelburd on as a GCP Project Faculty for one of the projects, so we both got to experience the beauty of Brisbane – just before the floods.
Through my consulting practice, Antiphony, I'm still working with great companies on innovation programs, and move from the boardroom to the dorm room working with Wharton's Venture Initiation Program, an educational incubator. A nice combination of Penn and non-Penn things to keep me busy. Had the opportunity to catch up with Anne Van Gilson, Cohort H, who is doing great after selling her company and enjoying running, cycling, and riding horses – we should all be in such good shape.
Hope to see you and many others at the reunion. (Warning: Shameless plug). I'll be moderating "The Entrepreneurial Perspective – Lessons from Wharton Alumni" workshop on Friday, 3:45-5p and hope to see WG '91 well-represented. Also, there are rumors that the Jazz Turnips may re-form to embarrass ourselves at the reunion. Steve Offutt is the catalyst and Andrew Harrison and I are in. If anyone knows where Steve Kuenzli is and whether he's coming, the quartet may be complete!
Tom Sullivan: After 20 years in various roles with Johnson & Johnson, I left recently to join Symmetry Medical, Inc. (NYSE: SMA) as President and CEO, based in Warsaw, Indiana.
Ed Cappabianca: I have been living in the UK since 1995 with my wife, Jane, and our three children. Having spent most of my time post-Wharton as an investment banker, I recently became CEO of a small UK biotech company which we combined with a small US listed company in January. The company is being renamed AmpliPhi Bio to reflect our focus as an anti-infective therapeutics company using bacteriophage to treat antibiotic-resistant bacterial infections.