Jane Page organized a terrific WG'91 pre-holiday dinner at a hip Tapas restaurant in Manhattan on November 6th. It was a great time to reconnect just 6 months after our Reunion. In attendance were: Jane, Evan Sturza, Stephanie Guilpin, Frank Wheeler, Phil Fine, Miguel Osio, Marty Secada, Ed Alinson, Karen Batchelder, Jean Brown, Jeff Kiker and Chris Malone.
Linda Jenkinson: Still living in San Francisco and working in the startup world – my company LesConcierges is doing well in the global luxury lifestyle services business – in the process of doing a $3.5 million raise – so if anyone wants to invest in a hot space let me know – have completed my family and Tristram is now 5 and Belle 2 – bought a house in Mill Valley. On the new and exciting front have started an African investment fund (with some Wharton folks including Heather Potters, Dawn Hines, Natasha Quist and Monica Richter) called WOW Investments – that is investing in high potential companies and women led companies in Senegal, Africa. Life is incredibly busy but a lot of fun.
Peter McKelvey: We are doing well living in West Newton right outside of Boston. I may be the last member of the class of 1991 who is still with his 1990 summer employer! I've been with L.E.K. Consulting all of these years and have headed the Boston office for the past 3 years. Our daughter, Emily, who was born when I was at Wharton, is now a sophomore in high school; we also have a 12-year old son, Will.
T.J. Gallagher: After 5 1/2 years working in next generation telecommunications, I took an opportunity to become CFO of Genesee and Wyoming Inc., a short line railroad holding company (NYSE:GWR). Working out of Greenwich, CT, I am living with my wife, Tricia, and three sons (Liam 8, Devin 6, and K.J. 4) in nearby Darien. We're really enjoying being back on the east coast after 15 years.
Lance Miller: I am living in a suburb of Detroit, MI, and have been at Ford since 1998 (including 2 years in Australia), surviving some tectonic shifts–started in M&A and now in strategy/planning. Kids (Chelsea, 18, Chance, 15, Faith, 13, and Hope, 10)–all very healthy, doing great. Look me up if you are in town!
Stephan Tanda: As of March 1, 2007, I have accepted an exciting new challenge as Member of the Management Board of Royal DSM, responsible for DSM's global $ 3 B Food & Nutrition portfolio. DSM is a $ 10B global specialty chemicals, materials and nutrition group with headquarters in the Netherlands. My wife Sabina is already busy planning our move (#10!) to Brussels, Belgium, and the girls, Nicole (9) and Rebecca (13) will visit the International School of Brussels as of the fall. The "Tanda Zoo" including horses, cats and dogs will tag along, as usual. We hope to welcome new and old friends to our new home in Brussels!
Brett Sewell: I'm CEO at Venturi Wireless, which provides wireless data systems to cellular providers like Verizon. We're an early stage company, and expanding into overseas markets. Venturi is my third startup company in the wireless space. In October, my wife Chris and I had our second child. At three months, Georgia is now starting to coo and try to talk with her 2 year-old brother William. Parenthood has changed life forever, in amazing ways. We would be delighted to see visiting Wharton alums who are in the San Francisco Bay Area. Please drop us a line.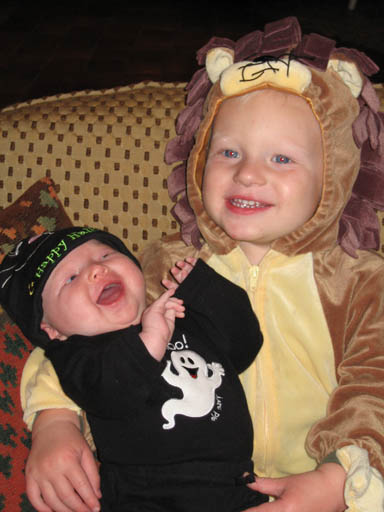 John Fadool: I started with Darden Restaurants as Senior Vice President for Red Lobster Culinary & Beverage in April'06 and I am enjoying it a lot. Causal dining is fast paced and growing and Darden is a company that gets brand building with great people and culture. Margot and the boys are enjoying Orlando. Max (9) and Jake (6) love living close to Disney and we all like the warm weather. We welcome visitors!
David Ghighi: Two years in Washington, DC now. Director of a 15-person firm advising clients on the commercial and financial structures of energy and infrastructure mega-projects. Thus, was in the Middle East a lot, in Latin America a good bit and more recently in the US. I miss London and Milan, but I've enjoyed discovering Washington's pockets of culture and taking advantage of theChesapeake's watershed (fly fishing). No wedding bells or births to announce as of this writing.