George Montague: I recently relocated from the Washington, DC area to Los Angeles where I joined Medtronic's Diabetes business as VP of Finance. As if the cross-country move and new job weren't enough to keep things hopping, we simultaneously had our second child, James. Pat Walsh, now with Spencer Stuart in Chicago, provided invaluable advice as I evaluated career options. My new contact information is:
george.montague@medtronic.com, Office: 818-576-4601
Julian Critchlow: 2004 was a riot. An 8-month sabbatical from Bain allowed an extended family trip to New Zealand, a solo swim across the English Channel (www.critchlow.info for details/pictures!) and an unexpected 4th child (due to arrive on the 4th Jan 2005!). Daniel, Megan and Robert very excited at the prospect of a new sibling – who we have christened "Nemo or Dory" after their swimming ability! Back at Bain since September and frenetic as usual. Roll on 2005!
Lutz Braum: I recently changed jobs and am now VP of Customer Management at Providian Financial in San Francisco, where I am responsible for the performance of a customer portfolio of over 6 million customers with $10B in assets.
Paras Bhargava: I finally took the plunge and got married to Madhu on Dec 26th in Toronto. WG91 classmates who traveled under inclement weather – Terry Akin and family from Dallas, Phil Heinrich from D.C., Jose and Christiani Moulin from Rio, Ranjit Kohli, John Rozario and Martin Secada from NYC. We plan to continue living in Toronto, where I continue to work in equity research. While in India recently I met with WG'91 classmate Bharati Jacob in Bangalore, who seems to be doing exceptionally well in the boomtown.
Lawrence Gelburd: I'm happily married to Anita (10+ years); she's Assistant Deputy Provost at Penn for Undergraduate and Ph.D. programs. I've been consulting for clients, writing business plans and helping them raise capital, and producing rock bands across the US. I teach at the Wharton Small Business Development Center and the Leadership in the Business World program; I am an Entrepreneurial Fellow at Penn's Weiss Tech House. This semester I am teaching Management 230, Entrepreneurship, at Wharton. Having a Blast!
Mark Thomas: Lots of changes this past year. I'm now living in San Francisco with my new bride. We were married October 2004. We enjoy spending weekends with my 9 year old twins. Professionally, I'm heading up the strategic alliances group at Openwave, a wireless internet company.
David Antonelli: My wife and I are living in Boston and busy keeping up with our 4 children, our oldest son is beginning to make plans for college, and our youngest son will be starting kindergarten next year. Our 2 daughters are ages 9 and 12. Work is great. I am still at the same company since leaving Wharton – MFS Investment Management. I manage an International Small Cap fund and recently took on a new responsibility as Chief Equity Officer.
Lynne and Vince Toye: We currently live outside of Philly. Vince was recently promoted to Vice President at Fannie Mae, where he is responsible for relationship management of eight multi-family lenders. In 2003, Lynne opened Posh Home & Design in Media, Pa, a retail shop that specializes in home furnishings and interior design services. They are enjoying living in the college town of Swarthmore with their two boys, ages 6 and 10.
Diane McGrath: I've been busy getting acclimated to my new life in London since moving there from Manhattan last fall. Soon after arriving, I held a party at the Royal Automobile Club for the European Wharton Lauder crowd, thanks to the generosity of RAC member and Wharton Lauder alum Jeffrey Montgomery. Over 40 people from 10 graduating classes attended. Lady Barbara Thomas Judge, member of the Lauder Board of Directors, was the guest of honor. My fiance Vincent Toolan (WG 96) and I attended the 40th birthday bash of super-hosts George and Janette (White) Hollingbery outside London….an unforgettable, non-stop 3 day party! Also attending were Monica Richter and husband Wolfgang, as well as Tina Winfield with her husband.
I was also excited to attend Noreena Hertz's party for the launch of her new book called IOU, The Debt Threat and Why We Must Defuse It. The book is recommended by luminaries such as Bob Geldorf, Bono and Archbishop Desmond Tutu. The first visitor to my new home in Holland Park was Ted Bissell and his son John Howard. Ted was there to help with some wiring, while John Howard found a recently painted closet and left his footprints all over the newly laid floorboards. Lorrie King and husband Edbert Morales win the prize for most frequent out-of-town guests to London.
Partying and dining with Mike de Vegvar and Bill Saffron, I was brought up to date on all the latest gossip around town, and met Bill's lovely S.O. I spotted many Whartonites at a brunch held by Danielle Downing when Charles Klein was in town. And the newest kid in the block, Nicholas Carron, arriving in London via Los Angelas and Paris, dined with me in happening Notting Hill….of course, only the hippest places will do for dear Nicholas, who showed off his shiny new bike for getting around town.
Sondra Baron: My first update since 1991 … I moved to London just after graduation and happily worked as an investment banker for 13 years, most recently for Australian bank Macquarie, financing infrastructure projects around Europe. I made the permanent trip back to the US in August of last year, and got married in October. I met my husband Andrew on an African safari in 1993 and after all these years it's nice to finally be Mrs. Greene! I am now enjoying a leisurely life in the great city of San Francisco while we contemplate our next adventure.
Rich Rudduck: KC and I are in Pavloday, Kazakhstan where we are adopting twins. The twins names are: Arin Ainsleigh Rudduck and Camran Thompson Rudduck. They were born on April 21, 2004. In this photo, our daughter Arin Ainsleigh is in my lap; our son Cam is in KC's lap. We arrived in Kazakhstan on December 17, and hope to return to the States around the middle of Feb.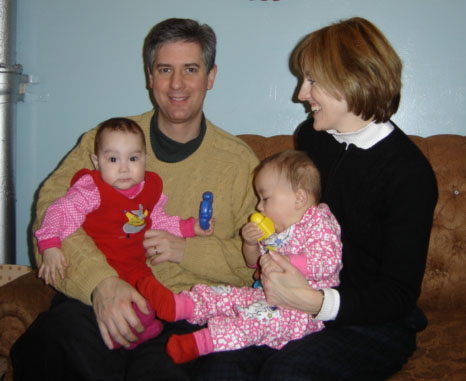 Rich Joseph: My wife, Maggie Kundtz, and I welcomed our second child, Theodor (Theo) on December 25, 2004. His sister, Pepper, is two. We live in Katonah, NY where I work from home investing in stocks and real estate. Lance Crist, Jeff Anderson, Frank Wheeler, Carl Steffens and I enjoyed an awesome excursion last October which involved mountain biking and hiking in/near Zion National Park and boating, water skiing and cliff jumping on Lake Powell. Yeeeeeeoooooooooww!!!