George Hongchoy: I recently signed up to become a Director of N.M. Rothshild & Sons and Asia Head of Diversified Industries. I have taken an 11-month long sabbatical since I left JPMorgan at the end of last year during which our family has traveled to Australia and France for holiday and I have improved my golf. Our two kids have really enjoyed having an (almost) full time father for the period as well. I am still active with Wharton affairs and recently became the president of Wharton Club of Hong Kong. If anyone in WG'91 come to Hong Kong, please look me up at ghongchoy@netvigator.com or (852)9688-2266.
Sean Crotty: I recently joined IntegriNautics Corporation as Director of Product Marketing, where I will be develop new markets for their products in the Mining, Transportation and Construction sectors. IntegriNautics designs, manufactures, and sells automatic steering systems, based on GPS satellite signals, for large vehicles such as tractors, trucks, cranes, and airplanes.
David Antonelli: I am working at MFS Investment Management (same company I started with out of Wharton). I am Director of Global Equity Research and also manage an International Small/mid cap Portfolio. After working in Europe for 5 years I relocated back to Boston – finally got our picket fence though have held off on the dog. We now have 4 children, 2 boys and 2 girls(oldest is 16 and youngest is 4!). Anyone visiting Boston please let me know at Dantonelli@MFS.com. Would love to catch up.
Jeff Anderson: Patty and I welcomed our second daughter, Laurel Marie on 25 January 2003. Laurel arrived @ 7lbs 5 oz and 20 inches. Her big sister Carrie is very excited to have the new baby around. Laurel is now crawling everywhere and enjoys getting into everything. Carrie is in pre-school at our church and is finally getting over the newness of it….get use to it kid…you've got 20 more years of school. I'm doing my own consulting having tired of software marketing and am working w/ another Wharton grad ('94) on starting up a non-profit targeting hi-growth companies in distressed economic areas. Patty moved to Unisys in 2001 and is doing great. Lastly, a few of us in DC have started a quarterly Wharton Dinner club…..so we get to see each other at least every 3 months. It's w/o the kids too!!!
Brent Baum: I am still very active in the film business here in LA. After nine years of working in various capacities in the film business (from studio executive to producer), I recently started a new film production company called Ruffian Entertainment where we are actively developing many feature films. I used to see Craig Bamsey and Nicolas Caron often when they lived in LA. Most recently, Mark Cregar has moved to LA. Mark and I had a wonderful time catching up with Norm Savoie, who was visiting here last month.
Jordan Foster: I'm now National Sales Manager & Head of Business Strategy at OFI Institutional Asset Management — the institutional investment management division of OppenheimerFunds. We recently moved back downtown — to Two World Financial Center. Living on the Upper West Side. New personal email: hjfoster@yahoo.com. I look forward to hearing from y'all, and Happy New Year.
Mark Stone: Kevin Burns (WG91) and I celebrated our 40ths with our wonderful brides Meg (Williams WG92) and Kathryn (Bye WG92) on the Big Island of Hawaii. Much fun was had by all. Kevin and I challenged the golf coarse several times…and as always, it won.
Kevin Lynch: Greetings from Cork, Ireland and happy new year to everyone. By way of update, our two girls Hilary and Emer are now firmly ensconced in our local school (they are six and four). Siobhan and I brought them skiing for the first time over the new year in Austria. I left full time consulting, I was a senior partner with Roland Berger in London, way back in 2000, and have since firmly gone down the entrepreneur route. My own firm Rockmount Capital has four start ups, ranging from high tech down to low tech service. I still do a bit of consulting in financial services in London and Dublin, but try to spend as much time at home as possible.
Colin Watts: We are still kicking back in Princeton going on 5 years now. Our girls, Austen – 11, Sydney – 9 and Spencer – 2 are growing quickly and keeping us very busy. We have rediscovered the ocean in 2003 and are spending many weekends down at Harvey Cedars on Long Beach Island, NJ taking in the sand & surf. Frank Wheeler, WG'91, and his wife & kids are recent new members at our church in Princeton. I am still President of the McNeil Nutritionals, division of Johnson & Johnson. We are having a great time building our brands like Splenda, Benecol, Viactiv & Lactaid. Check out the Fortune article on the Atkins Economy in the Jan 7 edition for a great article on our Splenda brand. We were paid a visit by Steve Minsky and his wife Natasha in December who are doing well in Boston.
Kyungsup Song: Moved to Goldman Sachs (Asia) L.L.C. Seoul Branch as an Executive Director at Investment Banking in 2002. Have three sons (Kijun 10 yr old, Kihoon, 6 and Kisang 3) and yes my house is a war zone everyday! Four (3 kids and 1 old boy) is more than a crowd to my wife.
Michael Solot: We have three children: Rebecca (4 yrs), Ari (2yrs), Daniel (8 mo.) and live in Glencoe, IL. I work at Wind Point Partners, a private equity firm, where I can be reached at 312-255-4804.
Mike Nash: Carolyn and I welcomed our second son, Thomas Leo Nash, on July 30th, 2003. Tom joins our other son Mark who was born in 2001. I am still at Microsoft and have been the Vice President of the Security Business Unit since March of 2002. It's hard to believe I have been in Seattle for more than 12 years now. There are a ton of Wharton people out here and I keep hiring at least one a year in my group.
PM Steckmest: Things are changing for the Steckmests in Oslo. Mina and I are splitting up, selling our house and trying to find two new homes and lives on our own. This will be the focus for 2004. My email address will not change, but the visiting address will change, though still in Oslo. Apart from this, work is good and I hope that 2004 will be another year of opportunities for fun and pleasures. Looking forward to hearing from old friends.
Thibaut de Chassey: I am happy to report the birth of my third son Paul on December 7, 2003. His mother Benedicte is doing well and his brothers Henri and Edouard are very happy to have a new boy at home. In anticipation of Paul, we have moved to Suresnes, a suburban area NW of Paris. Our new address is 23 ave Franklin Roosevelt – 92150 Suresnes – France. I attach a funky picture of Paul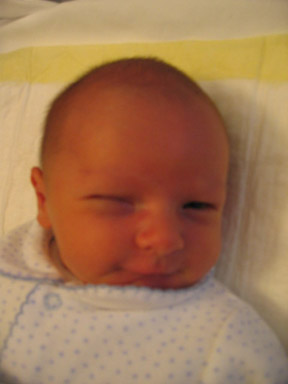 .
Kevin Filcik: Have worked for Johnson Controls (formerly Prince Corporation), an automotive supplier in Holland, MI, since Wharton. Positions included Product Launch Manager, Quality Engineer, Manufacturing Controller, and Six Sigma Black Belt. Currently I am Controller of the Continuous Improvement group. Email: kevin.g.filcik@jci.com. On the personal front, the Lord has blessed us with five wonderful kids (1girl, 4 boys) ranging from a 10-year old to two in college. If you remember Scott Armstrong's Marketing Class and our 2-year old's performance in our videotaped Penn Tower commercial, that young actor is now pitching high school JV baseball… time does fly! The fleeting time reminds me to "hold loosely" to things in this life, and to "keep seeking the things above, where Christ is seated, at the right hand of God." (Col. 3:1). The Lord Jesus continues to be my Saviour and most faithful friend.
Curtis Glovier: I am still with Perseus LLC, a private equity firm based in NYC and Washington, DC, and am focused on middle market buyouts of consumer products, media, and semi-distressed companies. I also still live in Princeton, on an old farm my wife and I renovated, which my three children (ages 8,7 and 3 years) enjoy roaming. Recently I have been active in Wharton WIRE, which is a group of Wharton alumni that meet monthly with small companies that are looking for either growth capital or a buyer. Usually these are companies too small to interest my firm , but could be of interest from a personal investment standpoint. A few months ago I visited the Wharton and UPenn campus and was impressed with the new buildings and general improvement in the overall environment.
Michael Luxenberg: We had a baby girl on September 18th. She is our 4th girl and we named her Aviva. Regards to all WG '91 classmates.
Ted Nash: My family (wife: Nancy and son and daughter aged 5 and 2, respectively) returned to Toronto from London in late 2003. We lived in London for a year and half during which time I set up principal-investing satellite office for CIBC Capital Partners and closed four equity transactions. In my tenth year with the CIBC group, I now run a business development unit and sit on the management committee of the bank's retail business, marking the first time in my life I've worked in an operation that has individuals as customers. Thus far, we miss being in (close to) Europe and seeing our Wharton friends there.
Harry Thomas: I recently left the comfort of corporate America and have opened my own practice as a Marketing Coach. I'm now dedicated to the part of my job I've always loved the best: helping to develop marketing talent. I do training, seminars and one-on-one executive coaching for marketing professionals. I still reside in Seattle with my wife Jeanne and our son, Miles.