Miguel Osio: Still living in New York and working in Morgan Stanley Private Banking. My son Miguel who is 17 is applying to college and Ale (14) is a wrestler and goes to school in the city. Laura my wife is the best keeping up with me, the boys and her real estate business. Last year Chris Malone my great friend and Surf partner and I went to the North Shore of Hawaii for the second time to watch the Surfing contest at Pipeline and Surf. We have already done 4 surfing trips and had lots of fun and exercise for mid forties guys.
George Hongchoy: After 16 years in investment banking, I started 2009 as CFO of LINK REIT (www.thelinkreit.com) which manages 150 shopping centres and 30 carparks in Hong Kong with a market cap of approx US$4billion. This is a new challenge for me and a career change. My wife, Dannie, continues to grow her language education business. Natalie (13) and Adrian (10) are attending the same school and we are glad to have spent a lot of time together during the year end holidays.
Jordan Foster: I've attached a picture of my new son, Benjamin Izzy Foster, born 11/5/2008. He rocks. He joins my wife, Sara, and his sister,
Andie.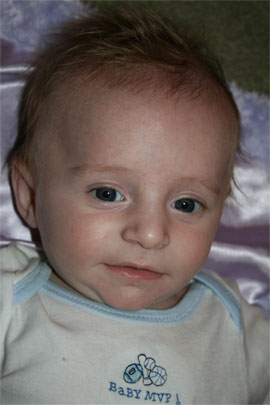 Theresa Clouser: I gave birth to a healthy baby girl named Kate on November 26, 2008. Big brother Evan is doing great and is very protective of her; he also has his own activities like t-ball to keep him busy.
PM Steckmest: I got married to Esenia during a 3 day wedding in Chisinau, Moldova during august 2008 and we are both living in Oslo with a son part time, a cat and dog. Still working with real estate for the public transportation company.
Tammy McLeod: Here in sunny AZ we are expecting triple digit temperatures to hit in April. That coupled with the new vocabulary of stimulus, smart grid, intelligent metering, self-healing distribution, and distributed solar are keeping me very busy. My company is certainly not exempt from economic uncertainty as growth has ground to a screeching halt. It is nonetheless a very challenging time. On the personal front, we took a fabulous family vacation to Costa Rica recently. This summer we'll make a trek to Cooperstown to watch my oldest son play baseball. With three boys in little league, when I'm not at work, I'm at the ball park. Looking forward to connecting with a few Whartonites this summer.
Diane McGrath: Had a wonderful night out at the Obama Inauguration Ball in London with Tina Winfield, Ranjit Kohli, Mike DeVegvar and Janette Hollingberry.