Nobuo Mori: I am Tokyo office head of NERA Economic Consulting, which is predominantly PhD Economists' consulting firm, thus a MBA is minority. Since the former president was U of Penn PhD, I was very grad that I at least went to the "right" school !
Tim Nash: My wife Jody and I have three daughters: Hannah (11), Sophie (10) and Lucy (5). Lots of fun. Just got a new dog, Maisey to add to the mix last fall. Looking forward to seeing our classmates at the Wharton Reunion, although I will likely be making the trek with Boston area classmates Jamie Seppala, David Hallagan and Jonathan Kelly, rather than bringing the full Nash gang. As for the job, I work for Bank of America as a portfolio manager, managing endowments, foundations, pension plans and trusts for clients in New England. I enjoy the work and I look forward to catching up. See you in May!
Tim Ling: I work for Basso Capital Management, a hedge fund in Stamford, CT. See you guys at the reunion!
Gary Schanzer: Valerie and I are now well settled in Weston, CT with our two kids, Eric (11) and Natalie (7). Two years ago, I started my own consulting firm, Interscope, with a group of partners. Our focus is helping consumer goods manufacturers build their brands through their retail partners. While it's still early in the mission, we're off to a great start and are starting to aggressively expand. I can be reached at gary.schanzer@interscopellc.com if we can help!
Jay Mohr: I have recently caught the entrepreneur's bug, having founded and served as President, CEO and Director ofGloucester Pharmaceuticals, a Cambridge-based, venture-backed, specialty pharmaceuticals company developing novel therapeutics for the treatment of cancer. While serving in this role, I licensed the company's late stage drug candidate, raised over $30 million in venture capital, and built the management team. Prior to Gloucester Pharmaceuticals, I was President and Chief Business Officer at Variagenics, Inc., a publicly-traded biotechnology company and an early leader in the personalized medicine/genomics arena. During this time, I helped to close the company's $56 million merger with Hyseq Pharmaceuticals to form Nuvelo Inc (NUVO). I also held the position of Vice-President, Business Development and Marketing, where I completed the company's first multi-year cancer pharmacogenetics deal with Novartis Pharmaceuticals. Before Variagenics, I served as Executive Vice President of Serono, Inc.'s Metabolic Endocrinology Strategic Business Unit (North America) where I headed all commercial operations for the recombinant human growth hormone franchise (Serostim® and Saizen®). Prior to Serono, I was with Schering- Plough Corporation and had responsibility for the global marketing of Claritin® and pre-launch activities for Nasonex®.
On the personal front, I play vice president to my wife and real CEO, Sharon (we just celebrated our 20th anniversary). She is the true decision-maker and manages an active philanthropic "career" in our community, while effortlessly keeping together the crazy logistics of raising 3 kids. Our oldest, Joe, is 17 years old and a high school junior who is just beginning the college search process – it's going to be an interesting year for him. Younger son Jonathan is now 15, a freshman in high school; Jon was born during 2nd year mid-terms at HUP – that was an interesting year for us! Our youngest, Katie, is 9 (3rd grade) and seems to play the role of "youngest and only girl" perfectly. We all still enjoy time together – believe it or not, even with teenagers – in Maine, skiing and attending youth/high school athletic events! A recent picture of the Mohr crew is attached.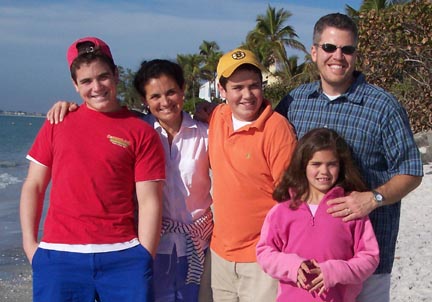 Jeff Hymowitz: My wife Kate and I have two boys, Jack (6) and Charlie (3). I run an interactive marketing and consulting firm based in Montclair, NJ. www.clickmountain.com
Joe Buccilli: Marielle was born on Saturday, September 16, 1989, in Cleveland, Ohio.
It was the end of the second week of our first year classes at Wharton. Fortunately, I was able to get to Cleveland from Philadelphia in time for the birth. Everything went well and after a few days I headed back to school. My wife, Caroline, and Marielle stayed inCleveland until Fall Break. I went back to Cleveland, loaded up a U-Haul trailer and drove back to Philadelphia with my wife and our new baby and moved into Meyer Hall. With my family finally in Philadelphia and mid term exams a week away, I finally was able to focus on studying. The rest of the first semester went extremely well. I studied, went to class, changed diapers, slept very little and regularly showed off my daughter to my classmates. It was a very special time for me. I was more than just a proud father. It felt like I was walking on air. I was never happier in my life.
Starting with the second semester of our first year and all of the second year, Caroline worked at a BP refinery outside of Philadelphiatwo (2) days a week. During "working" days, Caroline was usually out of the apartment for 10-12 hours and so, except for actual classes, Marielle accompanied me wherever I went. Marielle slept (and cried) through many study group meetings and she attended several guest lectures and many corporate presentations. Marielle even had the opportunity to attend class with me once when a lecture was rescheduled for a Friday and I could not find a babysitter.
It was during a corporate presentation by McNeil, while Marielle was playing with boxes of Tylenol, that she had her picture taken by someone from the Wharton Journal. This picture was printed on the front page of the Journal and consequently, Marielle became a little better known within the Wharton community.
One of the highlights of my week was when Marielle was my "date" at the Pub on Thursday evenings. We were "regulars" at the Pub. Marielle usually received a lot of attention from my classmates and there was a certain rugby playing friend of mine who would carry Marielle around the Pub and try to meet new people.
Marielle would often help me study late at night when she did not feel like sleeping. I would give her a highlighter and she would highlight the text which she felt was of particular importance. During graduation, I took Marielle on stage with me to receive my diploma because I felt that we had earned it together.
After graduation I started working for Deloitte Consulting where I am currently a partner working as an expat in Japan. Marielle is now 16 years old and is a junior in high school at Seisen International School in Tokyo.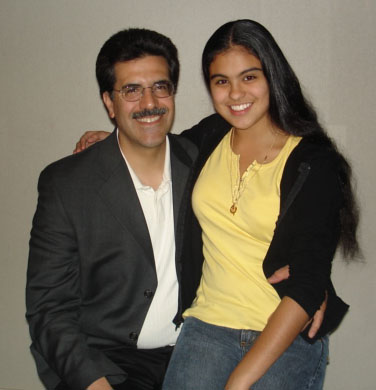 It is very hard to believe that it has been 15 years since we were at Wharton. I am sorry to miss our reunion. Hello to all my friends and classmates from the Class of '91. For those of you with whom I have lost contact, please email me your contact information so we can get back in touch.
Tohmatsu Consulting Co., Ltd.
Tel: +81 70 6408 6991 (From outside Japan)
Tel: 070 6408 6991 (Within Japan)
jbuccilli@deloitte.com
Shin Tokyo Building
3-3-1 Marunouchi
Chiyoda-ku, Tokyo 100-0005
JAPAN
Roy Nemoto: I have moved back to Colorado, and am home-office based, commuting to 3 Matheson Tri-Gas different offices. I have taken on a variety of positions, and am now, Corporate Vice President, Business Development and R&D, and General Manager, Purification Business Unit and Equipment Technology Center. My latest addition is heading up our Equipment Technology Center, in Montgomeryville, PA, about an hour from Philly.
My wife, Tracie, is pregnant with our second child and daughter, and is due Sept. 1. Tara Toshie will join Kiana Shizuko, who will soon be 9 years old! We hope everybody is enjoying a balanced family, work and personal life, wherever you are…
Jeff Kotzen: My wife Danielle and I live in Manhattan near Lincoln Center with our three sons: Alexander (almost 6), Nicolas (3) and Andrew (almost 1). Life with three sons is wonderful and requires lots of energy — full of sports, dinosaurs and at times some mayhem. I finally have my "foursome". I have been keeping quite busy at work where I am a Partner at The Boston Consulting Group. At BCG, I focus most of my attention on leading our Financial Strategies practice in the Americas Region while also working closely with a number of consumer goods and retail clients. I greatly enjoy the challenges that I face every day at BCG. I find that I am stretched and challenged in new ways almost every day. I have a lot of fun working closely with clients — helping them think through and develop strategies that address some of their most important opportunities and challenges. I can be reached at kotzen.jeffrey@bcg.com or on my cell 917 882-9018. I look forward to seeing many of you at the Reunion.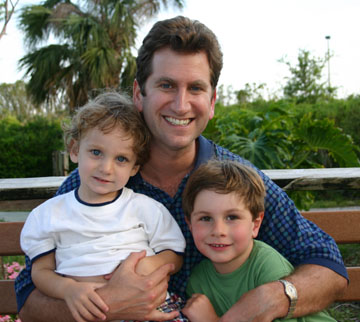 Sondra Baron Greene: My husband Andrew and I just had a baby – Zachary Hersch Greene – in February. He's a lovely boy, but of course I would say that. We're in San Francisco at the moment but planning a move to Colorado this summer. The idea is to enjoy the lifestyle and good weather and worry about our next professional steps at a later date.
Karen Batchelder: It is hard to believe that I have been in Philadelphia for nearly 10 years now. The city has certainly undergone a renaissance since we graduated, and I love living in the historic district in Center City. I had almost made it to my 10 year anniversary at Legg Mason but was part of the Legg Mason/Citigroup asset swap that occurred at the end of 2005. As part of that transaction, the Capital Markets division of Legg Mason was ultimately sold to Stifel Nicolaus, a St. Louis based middle market securities brokerage firm. Despite a little work to do on "branding", the transition has been seamless and presents a terrific growth opportunity for us. I run the Private Placement and Financial Sponsors Group for Stifel, focusing on raising private capital for emerging growth companies in addition to coordinating sponsor coverage for the firm. For fun, Jeff and I have developed a passion for adventure travel and have been to Guatemala, Vietnam, Burma, Patagonia, Brazil, Cambodia, Thailand, Borneo, and Turkey, to name a few places, over the past several years. I look forward to seeing everyone at the reunion. You can reach me at ksbatchelder@stifel.com.
Bharati Jacob: This is my first update since 1991…I moved to Bangalore, India in 1993 (after spending two winters in Minneapoliswith NWA !). In Bangalore, I have worked with an Investment Bank (Lazard India) and an early stage venture fund (www.infinityventure.com), investing in technology companies since early 2000. Infinity Venture Fund has been one of the most successful early stage VC funds in India. I am currently in the process of raising a seed and early stage fund, along with 2 partners – called Seed Fund (www.seedfund.in) We should hopefully close our fund raising over next couple of months. Unfortunately I am unable to come for the reunion – I am sure you will have a great time. Please email me at Bharati@seedfund.in or bharatijacob@vsnl.net – if any one of you is visiting India or want some information regarding India. On personal front – we have a 10 year old daughter.