Jeff Anderson: Patty and I welcomed our third child, Eric Donald on 19 January 2005. Eric arrived @ 9lbs 11 oz and 23 inches. His big, big sister Carrie and big sister Laurel are very excited to have a baby brother around and I'm excited about having a better gender balance in the house – though now Patty and I have to play Zone vs man-to man. We were in a race to get a tax deduction but alas we didn't make it – unlike Rich and Maggie Joseph.
Vincent Duriau: Renaud and Mary Jezequel submitted the following remembrance of Vincent who passed away accidentally in March 2005. "Vincent was a wonderful human being who deeply valued sincerity, integrity and honesty. In anything he endeavored to do, he was selective, focused, and a perfectionist. In return for friendship, he shared an extraordinary warmth and generosity of spirit. Rather refreshingly for today's world, Vincent never took himself seriously. In French, there is a saying that he was a 'personne entière.'
A constant theme throughout his life was his curiosity and desire to explore the outside world. His experiences sensitized him to the needs of those less fortunate, as demonstrated by his charitable missions in Tchad and India. His inquisitiveness led him to pursue graduate studies in the U.S. where he discovered a particular interest in African, Native and Latin American cultures. His professional and academic career took him all over the world, from Ecole des Mines in France, to Wharton, Lauder and the University of Maryland in the United States, and most recently to the Instituto Technologico Autonomo de Mexico where he was a member of the faculty. His academic research spanned the globe from Europe to the Far East.
We always felt close to Vincent. He was like a big brother. He introduced us on Locust Walk on a typical fall afternoon in October 1989. He was a dependable and trustworthy friend, always available to listen, and never more than a phone call or email away. In offering advice, he was always tactful and discreet. As best man at our wedding, Vincent utilized his vast knowledge drawn from his Catholic upbringing. He had a great sense of fun and witty sense of humour coloured by a touch of comical cynicism. He could be very charming, using his Gallic sensibility to win over an argument, console a disappointed mind, or boost the morale of a weakened soul.
We feel blessed and privileged to have known Vincent. We are devastated that he is gone. We would like to think a part of him will always stay with us. We will never quite be able to let go of the sight of his impish grin, the twinkle in his eyes, and his inviting chuckle. It is a great loss for those of us who knew him. It is equally a great loss for those who never enjoyed the warmth of his companionship and friendship, because he deserved to be known.
Memorial donations for Vincent should be made to: Oeuvre du Pere Ceyrac, 66 rue de l'Annonciation, Paris 75016, FRANCE. This charity benefits missions in India.
These donations can also be directed to us at: Jezequel, 17 Benham House, 552 Kings Road, London SW10 0RD,ENGLAND. We will make sure that donations get to the right person in memory of Vincent and that his parents are kept informed of them."
John Hynes: Big kudos to Julian Critchlow on his English Channel swim. Although Julian's update focused on the charitable aspects of his swim, the swim itself is quite a monumental achievement – fewer people have swum the channel than have climbed Everest. What is even more amazing is that WG'91 has not one, but two Channel swimmers in its ranks. Matt Johnson made the crossing in just under 13 1/2 hours in September '03. This desperate desire to get to France puzzles me, but I hereby nominate Rich Joseph to go for the hat trick.
Joaquin Zamorano: Miranda is the first daughter my wife Ya Yuan and I. She was born 5 lb. 10 oz. and 18.5 inches, on February 3rd, 2005 in Madrid. She is growing as a pleasant and loving lady, "just as her mamá". We would like to share with all, the joy of having the little baby girl on board although she doesn't consider attending Wharton for the moment.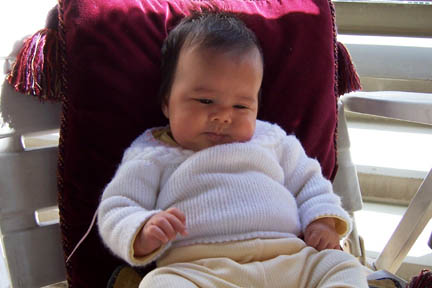 Miguel Osio: Laura, Miguel (14) Jr., Alejandro (10),and I moved to Manhasset Long Island after 14 yrs living in the City. After the experiencing commuting and missing the City we are flirting with the idea of coming back. I am still working in Private Wealth Management in Morgan Stanley and Laura is very busy working in NYC real estate with the Corcoran Group. The boys are playing lots of Hockey and starting to play Lacrosse.
Michael Goldstein: I have been elected Chair of the Nasdaq Economic Advisory Board, and on April 1, 2005 I officiated at my first meeting in Manhattan. Otherwise, not much has changed: I am still an Associate Professor of Finance at BabsonCollege.
Sharon Rappoport Bell: I am still living in Atlanta with my husband and three kids. I have recently started teaching yoga to kids and I am studying for my full certification. Besides that, my time is spent raising my three children, Camryn and Kayla, age 6 andGriffin, age 9.
Rick Deitch: We (finally) moved into our new house (which is really a renovated old house). Our new address is 3504 Princeton Ave.,Dallas TX 75205. The yard is still just a giant mud bog, and I can't find my dress shoes, but it is good to be moved, and good to have the old house sold as well. Other than that I am still enjoying life after investment banking, investing mostly in private deals from early stage venture investments to oil & gas and real estate deals, with a loosely organized group of friends. Free time is still spent playing with the kids and planning a big summer of activities and trips to escape the Texas heat.
Monica Richter: Our son Tristan arrived February 26th. Wolfgang and Iare thrilled as is his sister Kyra who is now 3. Too sleep deprived to type more as we battle with a good case of colic.
Kris Aasted: Still working in the executive search field. After leaving Heidrick & Struggles as a Partner in 2001, founded my own firm which is going well. Have interesting public company COO search in San Diego for any of our classmates with great leadership DNA. Must have run large, varied teams in a process intensive industry with quantitative bent. Company is in financial services, but background can be other. I can be contacted at kris@aasted.cc or 858-483-2100.
Jon Freedman: I've just started working in Washington, DC, and would welcome the opportunity to reconnect with any classmates in the area. Pam, Will (age 4), Alec (age 2) and I are still living in Charlottesville, VA, after having moved here from Paris nearly four years ago. I can be reached at jon.freedman@ge.com.