Wendey Landon: Hard to believe but this is my first update! Bruce (W'87, WG'91, MD'92) and I live in Newton, MA and have two beautiful daughters, Suzy (8 almost 9) and Jessica (6 almost 7). Since leaving Wharton, I have spent my career doing distressed and junk bond investing, first at Fidelity, then at DDJ Capital Management (my Fidelity Group left and took me with them) and now at Hammerman Capital, an intercaptial arb/distressed debt hedge fund. Bruce has been busy too. He really is using both of his MD/MBA degrees! After completing his residency at Beth Israel hospital in Boston and doing a fellowship, Bruce is now an Assistant Professor in the Department of Health Care Policy at Harvard Medical School. When not there, Bruce sees patients at Beth Israel. We are now sharing a ski house with Gary (WG '91) and Valerie Schanzer and their two children, Eric and Natalie in Vermont. Our whole family loves skiing and I have had to work very hard to keep up with Bruce and the girls. I would love to hear from people and can be reached at home (617) 969-0346 or the office (617) 424-4406 or by email at wblandon@comcast.net orwendy@hammermancapital.com. Please get in touch!!!
Theresa Clouser: Hi All — just wanted to share our great news of the birth of Evan Joseph Clouser on Feb. 5. He was born 5 lbs, 9 oz, 20 inches long and is an angel. Baby is doing great and so are Eric & I. We miss everyone and hope to stay in touch more often now that our relocation is complete. Our new address is:136 Laurel Ridge, Simi Valley, CA 93065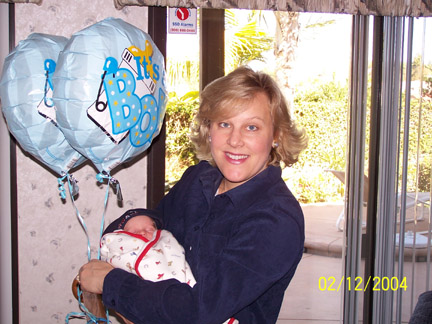 Lucinda Duncalfe Holt: 2003 was a great year – I stayed at home with a new baby daughter Indea Anjali and our 3-year-old daughter Emma and looked for my next company. This year has started off with a bang, as I founded a new company, TurnTide. We spun the technology out of another start-up, raised capital, and launched at DEMO2004 all in February. TurnTide is the first of a next wave of anti-spam companies, and we're already getting great momentum in the press and have 13 customers (the product is designed for enterprises over 2,000 employees and ISPs). There are a bunch of Wharton grads involved, although none from our class. Cheers!
Mike Nash: My Wife Carolyn, my son Mark and I welcomed a new addition to the family, our second son Thomas Leo Nash born July 30, 2003. I am still very busy working on information security as VP of Security Business Unit at Microsoft—trying to make the world a safer place for all of us. More Wharton people keep showing up at Microsoft, so we have our own little alumni group out here.
Harvey Fram: I've recently been appointed the portfolio manager of the Mainstay Common Stock and Variable Annuity Growth Equity Funds, in addition to my existing mandate as manager of the Mainstay Midcap Core Fund. Just completed five years at New York Life Investment Management in Manhattan, still commuting from Princeton, NJ. Three kids, Joshua, Geena and Kyle (oldest is 10) and wife Carine are all doing well.
Dan Jansen: Lynn, our three kids and I just returned from a three-month sabbatical from BCG. It was a furious pace with time in Cambodia, Thailand, Mexico, the Bahamas, Lake Tahoe, Telluride and numerous National Parks. The short list of activities includes 30 days of skiing, snow-shoeing, sledding, sleigh rides, skating, scuba diving, snorkeling, sailing, elephant riding, trekking, etc…you get the point. I am now back at work running BCG's media practice in order to pay for all of this.
Tammy McLeod: Much in my life is the same. Same husband, same kids, same house, same company. I was recently promoted to General Manager of APS, which is a big step and extremely challenging for me. I'm very excited about the change.
Elaine Rizzotto: On May 16th, 2003, I gave birth to an 8 pound , 3 ounce baby boy, Nicolas (photo included). Our 33 month old daughter Alexia enjoys "mothering" and at times "tormenting" her baby brother. I enjoyed a 7-month maternity leave, visiting friends and relatives in Italy and Greece. I was having so much fun that it was difficult to return to the long work hours and traveling schedule where I am currently involved with the new oncology franchise that Merck is building. As Stefano comes from northern Italy, the many trips we've taken to beautiful Italy have made learning Italian a necessity. We recently returned from a vacation that included skiing in the Dolomites, baptizing Nicolas and having a large reception in a 300 year old castle that was reminiscent of the movie "Big, Fat, Greek wedding!". I often see my good friend and Alexia's godfather, Christodoulos Gerogiannis in NYC, who is enjoying his early retirement to the fullest. I also have news that Ian Brown (WG '92) and his wife Michelle are expecting a baby girl in July.
Maria Cristina Infante: Recently at the Lauder reunion in New York City held in Spring 2004, I had the chance to catch up with Norm Savoie, Diane McGrath, Nicholas Caron, Phil Heinrich and Gordon Lucyk of the Lauder class of 1991. Diane McGrathmemorably said we all age quite gracefully, don't we. Thanks Diane, the dedicated and gracious class coordinator of the Lauder class of 1991.
After graduating from Wharton from 1991 to 2001 I worked as a banker and securities analyst with major international banks and brokerage firms based mainly in Greater China and the Philippines. I have developed an expertise in credit research on Asian emerging markets and bank risk management. At the end of 2001 the risk function of the bank I was working with was reorganized along regional lines and I left the bank to explore opportunities in China as an independent bank risk advisor.
Since I left the bank I have found this to be a creative and rewarding time, sending time with family and other pursuits as well as working as an independent risk advisor pitching proposals to multilaterals, governments, banks and corporations mainly in China and the Philippines.
Before starting any projects as an independent, in April 2002 I set out to walk a total of over 100 km of three world heritage trails in Australia and New Zealand. In the last 10 years I have walked many beautiful trails around the world: in Australia, Cradle Mountain; in the North America, sections of the Appalachian trail in New York, the Green Trail in Vermont and San Francisco's Coastal Trail; in China, sections of the Great Wall and parts of the Maclehose Trail in Hong Kong. In my home country, the Philippines, I have walked the Pamulaklakin Trail in the Subic Rainforest, climbed to the top of Mount Makiling in Laguna, peered over the edge of the crater of the Pinatubo volcano and explored the hidden tunnels and trails amid the World War II ruins of an old American base in Corregidor Island, Bataan.
Beginning in May 2002 I lived in Beijing, China for about a year, returning in the summer of 2003 to Manila where I continued to pitch for bank risk advisory projects and other advisory work in Asia. That summer, as part of a team composed of a governance expert and legal advisor, I lobbied the Philippine government and banks for housing finance reform in the Philippines. In the Philippines I am also a part of a concerned community network as an advocate of the active non-violence movement and voter education for meaningful political change. Currently I am working on a financial due diligence project for a target acquisition in China.
I spent the fall of 2003 in New York City visiting family and taking credit risk modeling courses at New York University to help with an independent practice. Also in New York City in the fall, I found a voice and in between work projects I am writing contemporary catholic fiction.